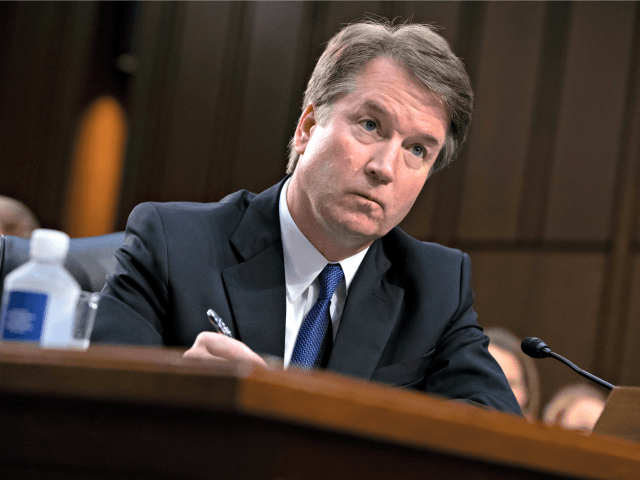 Politico Editor-in-Chief John Harris penned an op-ed on Monday suggesting that "God is laughing at Brett Kavanaugh," noting the supposed irony that Kavanaugh once investigated Bill Clinton's infidelity only to have the Senate Judiciary Committee and the media now investigate a sexual misconduct allegation brought against the Supreme Court nominee.
Harris wrote his op-ed one day after the Washington Post revealed that California psychology professor, Christine Blasey Ford, is the woman that now accuses Supreme Court Justice nominee Judge Brett Kavanaugh of sexually assaulting her when they were both in high school in the 1980s.
Ford alleges that back in 1982, a 17-year-old Kavanaugh and a friend of his pulled Ford into a room during a high school party in suburban Maryland, forced her onto a bed, and groped her over her clothing before she was able to escape.
The Politico chief noted the irony in this accusation considering that Kavanaugh spent his early 30s investigating Bill Clinton's "most intimate moral failings," or his affair with then-21-year-old White House intern Monica Lewinsky. And now the Senate Judiciary Committee and the media are investigating Kavanaugh's alleged groping of a woman when he was in high school.
"God, it's sometimes said, has an awesome sense of humor," Harris remarked.
The Politico head continued:
So here was Kavanaugh—who spent his early 30s as a Ken Starr warrior pursuing Bill Clinton for the political and legal implications of his most intimate moral failings—now in his early 50s facing a political crisis over disturbingly vivid, passionately contested, decades-old allegations about Kavanaugh's own possible moral failings.

Few prosecutors, it seems likely, would ever open an assault case—36 years later—on the basis of Christine Blasey Ford's account of being pinned down on a bed by a drunken Kavanaugh, then 17, and being aggressively groped until a friend of his physically jumped in.
Harris contends that few people would investigate a 36-year-old sexual assault accusation; however, few people would have also investigated a "middle-aged man's lies about adultery if that person had not been President Bill Clinton." The Politico chief neglects to mention that President Clinton was impeached for lying under oath before a grand jury and for obstruction of justice, not for sexual impropriety.
The comparison between Kavanaugh and Clinton also fails to note that President Clinton did, in fact, have an affair with Lewinsky during his presidency, while Kavanaugh has continued to vehemently deny the accusations brought against him.
Now on Thursday, Ford has said that she is willing to testify before the committee next week, but not on Monday, "so long as her safety is assured and hearing is fair."
NEW: Lawyers for Christine Blasey Ford have told Senate Judiciary Committee staff she is "prepared to testify" next week — but not Monday — so long as her safety is assured and hearing is fair. My latest. https://t.co/WiA3kXb2d8

— Sheryl Gay Stolberg (@SherylNYT) September 20, 2018
Senate Judiciary Committee Chairman Chuck Grassley (R-IA) gave Ford and her lawyers until Friday morning to say if she plans to testify either in private or public.
Sen. Marco Rubio (R-FL) suggested that, if Ford does not testify, the committee should move forward with Kavanaugh's nomination, and key moderate senators are beginning to say the same.
President Donald Trump said on Wednesday that he would like to hear from Kavanaugh's accuser despite her reluctance to testify. The president also said that the last-minute accusation revealed by Democrats was "very unfair" to Kavanaugh and his family.
"I can only say this: He is such an outstanding man. Very hard for me to imagine that anything happened," Trump added.
Harris concludes in his editorial, "With a vote on his career-long dream of serving on the high court scheduled for three days from now, Kavanaugh can be forgiven if he is not in an ironic frame of mind."
http://feedproxy.google.com/~r/breitbart/~3/WsHV7uA7wwo/