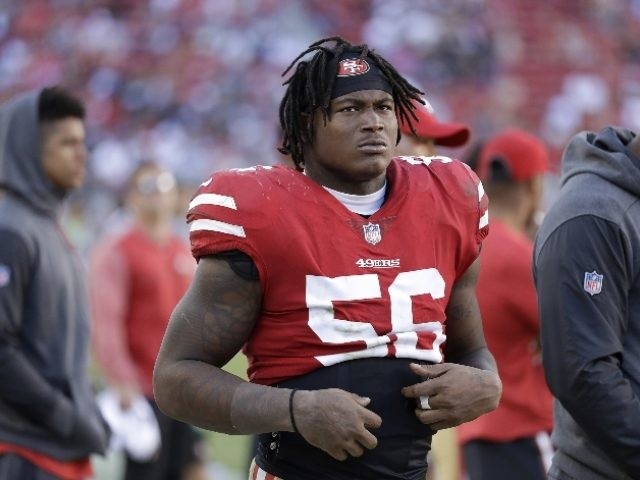 The Santa Clara Police just released body cam video of a call to Reuben Foster's home that was made when neighbors called in a domestic disturbance call. This incident occurred a month before the NFL player's arrest for another incident of domestic violence.
The video shows the former San Francisco 49ers player refusing to cooperate with police as officers try to sort out what was going on inside the couple's home. Foster is so resistant to cooperation that at one point he is handcuffed, the Daily Mail reported.
The incident between Foster and Elissa Ennis appearing on this new tape occurred at Foster's apartment complex on October 12 in Santa Clara, California.
The video shows that Foster answered the door but after repeated requests, refused to identify himself or offer any id when the officers asked for it. Police calmly continued to ask what was going on in the home between him and girlfriend Elissa Ennis, but the player refused cooperation.
For her part, Ennis claimed that she got upset when she found something on Foster's cellphone. She also tried to explain away the argument by saying she had not taken her anti-depression medication.
Ennis would not directly answer the officer's question about whether Foster had hit her.
Foster was so resistant to cooperation that officers handcuffed him.
Ultimately, officers un-cuffed the player and left without arresting either party.
One month later, Ennis called the police and reported that she was beaten by the player in Tampa, Florida. But she later testified in court that she lied about the abuse allegations.
However, this month Ennis recanted her testimony saying that she thought she loved Foster and consequently lied to protect him. She is now saying that her original report of abuse was true and that Foster did beat her in Florida.
Foster was released by the 49ers early this year after his arrest for domestic violence. Despite that, he was signed by the Redskins just last month, though he is still ineligible to play until he is removed from the Commissioner Exempt list.
Follow Warner Todd Huston on Twitter @warnerthuston.
http://feedproxy.google.com/~r/breitbart/~3/7q42Sbl8fIg/