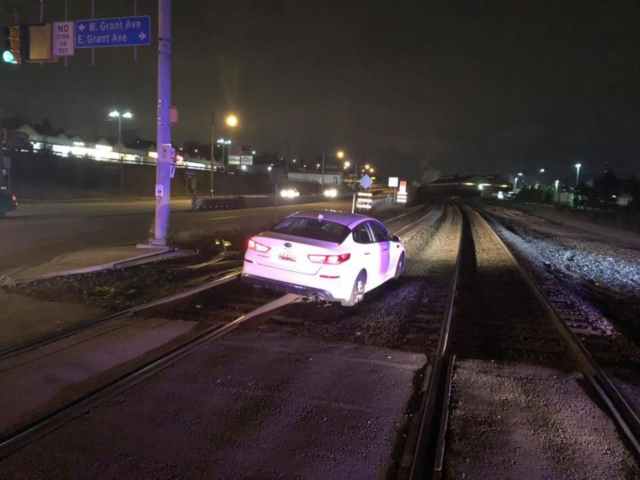 A Pennsylvania woman drove her car onto train tracks,  blaming her GPS for directing her off the road and into danger, according to police.
A woman in Duquesne, Pennsylvania, was found driving on train tracks last Wednesday, according to several local reports. The driver, who was sober, told police that her GPS told her to drive onto the train tracks.
In a Facebook post, the Duquesne Police Department explained the bizarre circumstances surrounding the incident. The woman behind the wheel was ultimately given a citation for careless driving.
This evening at approximately 10 PM, the city of Duquesne Police Department was dispatch for a vehicle on the railroad tracks at Grant Avenue and State Route 837.

Arriving Officers learned from driver, a female from Sewickley, that her GPS advised her to go this way.

The female was 100% sober and had no medical conditions affecting her decision-making.

The vehicle was towed from the scene and the driver was cited for careless driving.
In 2015, a man accidentally drove off a bridge after faulty directions from a GPS. Although the driver survived the 37-foot plunge, his wife was killed in the accident. Sites like Ranker have compiled lists of the worst accidents caused by GPS mishaps. In 2012, for example, Japanese tourists ended up driving into a bay after their GPS malfunctioned.
http://feedproxy.google.com/~r/breitbart/~3/FgZI6NiMSUE/