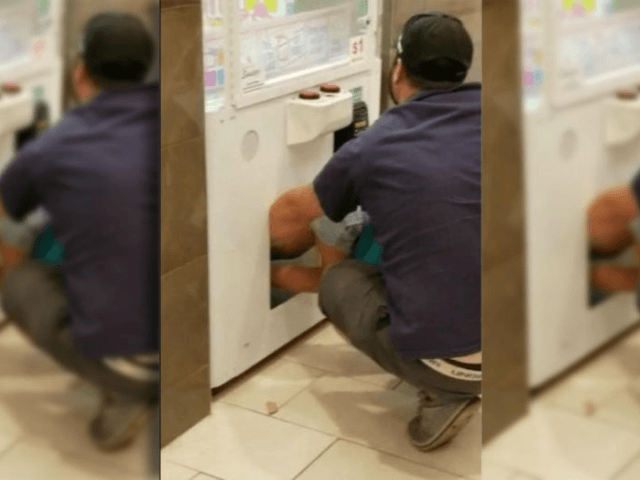 Police are searching for a New Hampshire man who allegedly used a toddler to steal items from an arcade game at a mall on Friday.
Authorities say the suspect asked a small, female toddler to climb into an arcade game's prize-dispensing slot at the Mall at Rockingham Park in Salem after 6 p.m. on Friday.
Once the toddler wriggled her body inside the machine, she handed over a few items to the suspect, police said.
A video posted by the Salem, New Hampshire, police department showed the man taking out several packages from the vending machine before a toddler's head peeked out of the machine.
Police say the suspect is a white Hispanic male believed to be between 20 and 30 years old. A young boy, who police say is between 5 to 7 years old, appeared to be next to the suspect while the incident took place.
Red Robin hostess Hannah Forese said she notified mall security as soon as she witnessed the incident.
"Two people came [into the restaurant], and I heard them say, 'That's so unsafe.' So I went outside and all I saw was the toddler's head peeping out of the front of the machine," Forese told the New Hampshire Union Leader.
Forese said she saw the suspect and the two children leave with several prizes, including video game consoles.
Salem police are encouraging people who have information that may lead to the suspect's capture to reach out to the department via Facebook or call Detective Joshua Dempsey at 603-890-2343.
http://feedproxy.google.com/~r/breitbart/~3/WaeuQYzvX58/