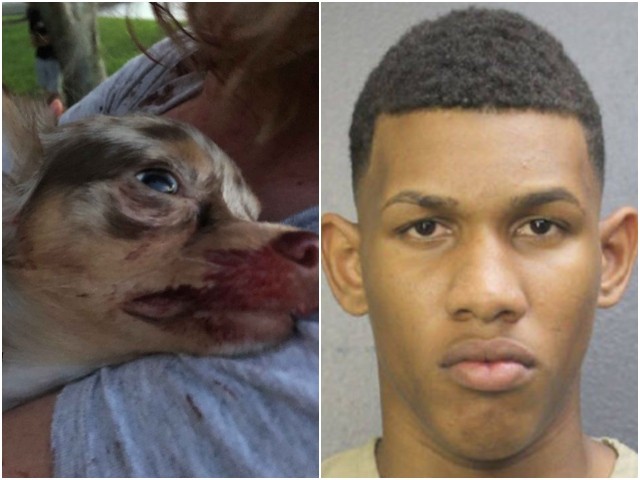 Authorities arrested a Florida man on Saturday for allegedly using a "sniper rifle" to fatally shoot an eight-month-old puppy from a second-floor balcony.
Police charged Johansen Concepcion De La Ros, 19, with one count of felony cruelty to animals, WPLG reported.
The dog's owner, Roshelle Parson, was walking the eight-month-old puppy named Princess along a trail about 6:30 p.m. when she noticed the dog had been shot, an arrest report stated.
An off-duty police officer heading toward the apartment building spotted the man with the rifle on the second-floor balcony and called 911.
Police arrived at the scene to find Parson covered in blood while holding Princess's blood-soaked, lifeless body, according to the report. Witnesses told the police they saw the shot coming from the balcony of apartment 1602 and saw two men enter the apartment after the gunman fired the shot.
Officers investigated the inside of apartment 1602, finding two men, Concepcion De La Ros and Daniel Alvarez, and a black pellet rifle, the report revealed.
Witnesses said De La Ros was the gunman and Alvarez was the other man on the balcony.
Alvarez told police that De La Ros said, "I'm going to shoot the dog," but De La Ros insisted the shooting was an accident.
Concepcion De La Ros is currently in custody at the Broward County Jail in Fort Lauderdale on $2,500 bond.
http://feedproxy.google.com/~r/breitbart/~3/rGAmx4xsLnc/