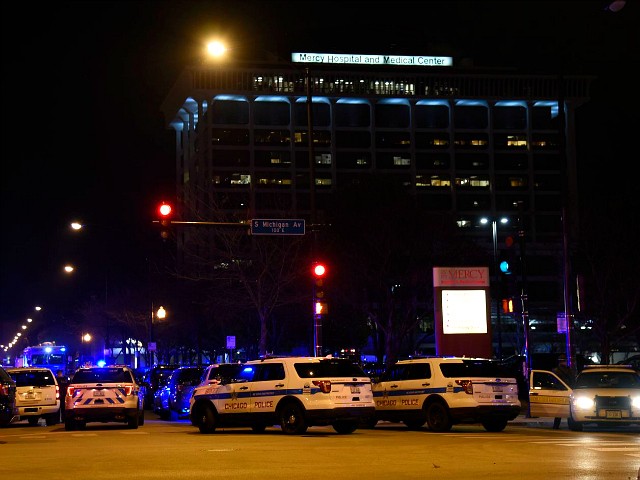 The gunman who allegedly killed three at Chicago's Mercy Hospital is identified as 32-year-old Juan Lopez.
Lopez died during a shootout with police, and it is not yet known whether he was killed by an officer's bullet or a self-inflicted gunshot.
ABC 7 reports the incident unfolded outside the hospital when Lopez and Dr. Tamara E. O'Neal got into an argument in the parking lot. O'Neal "had recently broken off an engagement" with Lopez, and during the argument, Lopez allegedly pulled out a gun and shot O'Neal, killing her.
CBS Chicago reports Chicago Police Superintendent Eddie Johnson indicated that "officers ran toward the gunfire after police arrived and saw Lopez armed." Lopez shot at a police vehicle then ran, and officers "chased him into the hospital."
Lopez shot and killed a pharmaceutical assistant as she exited an elevator inside the hospital. Johnson said, "A woman who got off the elevator–she did nothing and he just shot her. We just don't know how much damage he was prepared to do."
Chicago Police Officer Samuel Jimenez was reportedly shot and fatally wounded while exchanging fire with Lopez.
Superintendent Eddie Johnson: "When they pulled up they heard the gunshots and they did what heroic officers always do — they ran to gunfire. They went because that's what we do." @cbschicago pic.twitter.com/SG4bIMY6MI

— Megan Hickey (@MeganHickeyCBS2) November 20, 2018
A second officer was also shot, but the bullet hit his holster and lodged in his handgun, sparing him any gunshot wounds.
AWR Hawkins is an award-winning Second Amendment columnist for Breitbart News, the host of the Breitbart podcast Bullets with AWR Hawkins, and the writer/curator of Down Range with AWR Hawkins, a weekly newsletter focused on all things Second Amendment, also for Breitbart News. He is the political analyst for Armed American Radio. Follow him on Twitter: @AWRHawkins. Reach him directly at awrhawkins@breitbart.com. Sign up to get Down Range at breitbart.com/downrange.
http://feedproxy.google.com/~r/breitbart/~3/Ucp_wCWFcj0/