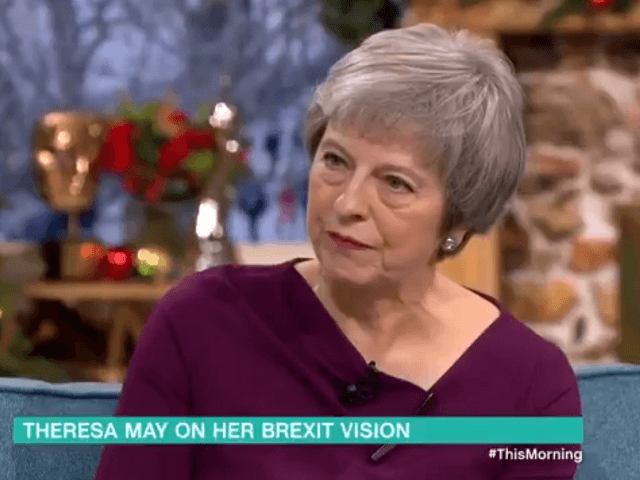 British Prime Minister Theresa May made a surprise appearance on chat show This Morning Monday, and while absolutely ruling out a second referendum during her premiership was forced to deny she would be out of work within a fortnight.
Speaking to host Philip Schofield on a slot which followed the last minute cancellation of another slot last week with the same interviewer, the prime minister said — despite heavy criticism and likening it to a political surrender to Brussels — that she would achieve a deal which reflected the will of the British people as expressed in the 2016 referendum.
The prime minister also rejected the calls by Brexiteers and Remainers alike to chart a different course by claiming that when she spoke to members of the public the overwhelming message she got was that they wanted her to "get on with it".
What will happen if MPs reject Theresa May's EU withdrawal deal? pic.twitter.com/W9Pz8GOeEH

— This Morning🎄 (@thismorning) December 3, 2018
An unfamiliar entry in political discussion, chat host Schofield nevertheless pressed the prime minister on some key questions surrounding the forthcoming Brexit vote and her future as leader of the United Kingdom.
Rejecting the calls to cancel the first referendum and hold a second — in a pattern familiar in votes that go against the European Union being re-run until the right answer is given — Theresa May said there would not be another vote on Brexit during her time as leader.
She said: "…people are talking about a second vote when we haven't delivered on the first vote. And we need to deliver on a first vote. I think this is a really important point, we asked people to vote, we said, please decide whether we should leave or remain. People voted to leave.
"I think there's a sort of democratic duty on politicians, having had that referendum, having told people it is their choice. So let's deliver on the first vote, lots of people are talking about a second vote, let's deliver on the first vote!"
Prime Minster @theresa_may is clear that there will be no second referendum under her leadership #Brexit pic.twitter.com/pW88tUXEJC

— This Morning🎄 (@thismorning) December 3, 2018
Talking up the positive qualities of the deal she had cut with Brussels, the prime minister said it "delivers on what people voted for, we end free movement so we control who comes to our country, we control our borders. We stop sending vast sums of money to the EU every year… We'll end the jurisdiction of European Courts."
Critics, meanwhile point out the deal includes a backstop arrangement which, if activated by Brussels, would leave the country locked in the Union indefinitely — a negative outcome that even the prime minister's fervently pro-remain civil servants admit would be bad for the country.
May told viewers her deal was the only deal coming: "This is the deal. This isn't, 'oh well let's spend another six months' and [we will] come back with something different.
"The message has been very clear: this is the deal. This has taken 18 months of negotiation."
Leaked Advice to PM May from Bureaucrat Olly Robbins Admits Brexit Backstop 'A Bad Outcome' https://t.co/F8BM0F8wcq

— Breitbart London (@BreitbartLondon) December 3, 2018
The prime minister was also drawn on what would happen to her, and her government, if Parliament voted against her Brexit plan in Parliament next week. Asked plainly if she would resign, May did not rule out leaving the job.
She said: "…if the vote doesn't come through, the Government has to come back within a certain period of time to Parliament to say what the next step is. But I am focussing on getting that vote through.
"There's going to be a lot of debate, a lot of things said about this over the next few days. When it actually comes to it, it's a key moment of decision for MPs, about [whether] we want to ensure we leave the European Union."
May was forced to insist she would still be in a job after the vote, however. She said: "I will still have a job in two weeks time, my job is making sure we do what the public asked us to, leave the EU but in a good way for them."
Oliver JJ Lane is the editor of Breitbart London — Follow him on Twitter and Facebook
http://feedproxy.google.com/~r/breitbart/~3/6xk7zN-GZ18/