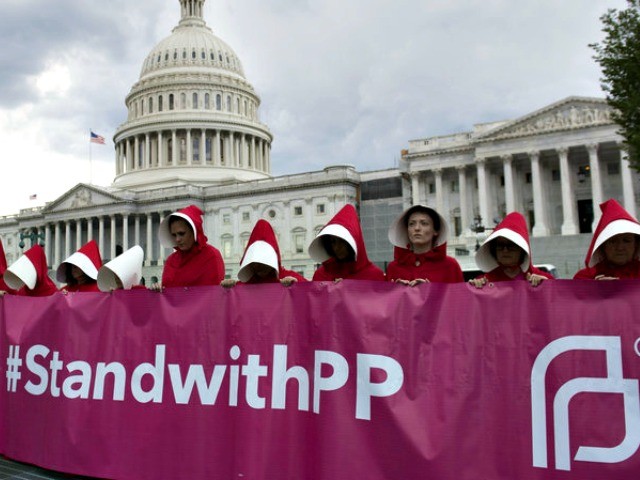 Planned Parenthood Votes is spending more than $4 million on 24 House races in advance of the midterm elections in November in order to make abortion the number one congressional issue.
Midterms are right around the corner. If you're anything like us, you've already started to organize. If you haven't, have no fear, #VoterEmpowermentDay is almost here! #TakeItBack

Learn more: https://t.co/VVZcmp1MqZ

— Planned Parenthood Action (@PPact) September 20, 2018
The super PAC affiliate of the taxpayer-funded abortion chain hopes to enable the Democrats to regain control of the House for a "pro-reproductive health majority."
Fortune reports:
In 15 of the races, the incumbent is a Republican; in nine, the races are open. But the organization will be giving particular attention to six races: California's 25th and 48th districts, Illinois' 6th district, Minnesota's 2nd and 3rd districts, and New York's 19th district.
According to the report, these six races are considered "toss-ups."
Planned Parenthood will be running digital ads, participate in door-to-door canvassing, and distribute mailers emphasizing their continued fight for abortion rights and support for Obamacare.
"The Trump-Pence administration is responsible for an unprecedented assault on Planned Parenthood patients and our communities, aided by politicians at state and federal levels who have supported dangerous policies meant to strip us of our rights and our ability to access health care," Deirdre Schifeling, executive director of Planned Parenthood Votes, said in March. "In response, we've marched, we've mobilized, we've organized, and together we've built a historic resistance. Now, our electoral program is going to channel that energy and the activism into electoral victories across the country in 2018."
Earlier in September, Planned Parenthood announced a $20 million midterm election ground campaign – reportedly the largest ever organized by the group.
"This is all fuel to an already raging fire," Schifeling said, warning that the "days are numbered" for any politician who opposes women's right to abortion.
Announcements about Planned Parenthood's investment in the campaigns of pro-abortion candidates have been coordinated with the confirmation hearings for Supreme Court nominee Brett Kavanaugh and the sexual misconduct allegations made against him by Christine Blasey Ford.
Whether it was abusing his power over a young woman 30 years ago, or abusing his power over women's lives as a judge, Brett Kavanaugh should not be considered for a seat on the Supreme Court. Period. #StopKavanaugh

Call your senators today: https://t.co/PAPWIEpo6I pic.twitter.com/yzXORhr6Zn

— Planned Parenthood Action (@PPact) September 20, 2018
"Anyone who engages in an abuse of power should not be confirmed to the Supreme Court, whether it's abusing physical power over a young woman by allegedly attacking her 30 years ago or abusing power over women's lives as a judge." — @dawnlaguens https://t.co/kSyANHp5Jo

— Planned Parenthood Action (@PPact) September 18, 2018
Planned Parenthood said its ground initiative will include Arizona, Nevada, New Hampshire, Florida, Minnesota, Georgia, Michigan, Ohio, Pennsylvania, and Wisconsin.
Tonight, @RichCordray and @MikeDeWine made it clear for Ohio women the difference between a governor who will stand with them and one who will stand against them. #OHgovdebate pic.twitter.com/QwKNgjIjzz

— Planned Parenthood Action (@PPact) September 20, 2018
The midterm elections are seeing a record number of women candidates. Axios reported in August at least 183 women nominees for the U.S. House and 11 women nominees for governor.
"Most of the nominees are running as Democrats, which could be a huge advantage for their party come November," Axios noted.
http://feedproxy.google.com/~r/breitbart/~3/GSkHIhkc4eg/