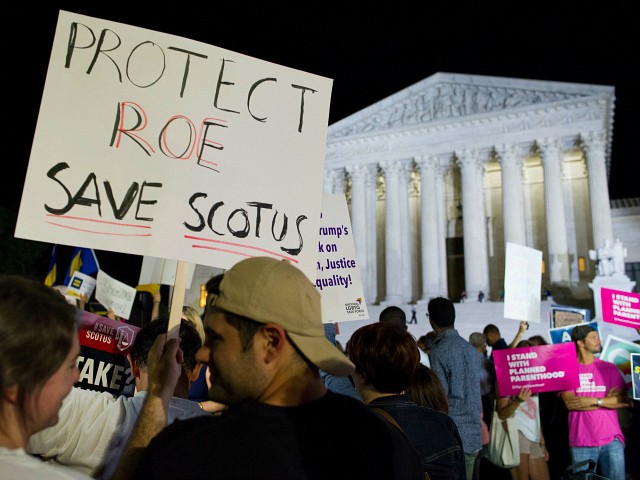 Planned Parenthood sent out an email fundraiser letter to supporters Wednesday announcing that a third woman, Julie Swetnick, is accusing Supreme Court nominee Brett Kavanaugh of sexual misconduct.
"Enough is enough: Kavanaugh must withdraw now," writes Dawn Laguens, executive vice president of Planned Parenthood Action Fund, in an email made available to Breitbart News.
She continues:
Moving forward with Kavanaugh's nomination at this point would be irresponsible and dangerous. It tells survivors of sexual assault that they don't matter. It tells the public that one man's promotion matters more than the safety of multiple women. And it sends a message that partisan politics trumps not only fairness, but basic human compassion.

Speak out now: This nomination is a disgrace. Brett Kavanaugh must withdraw.
"[T]ogether, funneling our hurt and our anger into action, we'll stop this nomination from going any further," Laguens adds.
The fundraising letter comes with a "trigger warning" as well: "This message includes information about sexual assault. If you are finding it difficult to hear about sexual violence in the media and online, remember to take care of yourself."
Questions, however, arose quickly about Swetnick's accusations after it was discovered that she would have been a college student during the period of time she claims Kavanaugh was "present" at gang rapes during high school parties.
Breitbart News reported:
On Wednesday morning, Michael Avenatti, the aspiring presidential candidate and lawyer for porn star Stormy Daniels, released a sworn affidavit from Swetnick in which she claimed to have met Kavanaugh and his friend Mark Judge in "approximately 1980-1981."

She then went on to claim that in 1981-82, she "became aware of efforts" by Kavanaugh, Judge, and others to "spike" the punch "at house parties I attended" with the intent of incapacitating a girl who could then be gang raped. She said she witnessed Kavanaugh and Judge lining up outside a room waiting for their "turn." She also said that in 1982, she was a victim of such gang rape, while drugged, with Kavanaugh and Judge "present."
However, according to her resumé, Swetnick graduated from Gaithersburg High School in 1980 prior to attending the University of Maryland. Kavanaugh graduated from Georgetown Prep in 1983. These details indicate Swetnick would have known Kavanaugh while she was 17 or 18, and he was 15 or 16 years old and that she was attending high school parties while she was a college student.
http://feedproxy.google.com/~r/breitbart/~3/KpRH-ud1BZA/