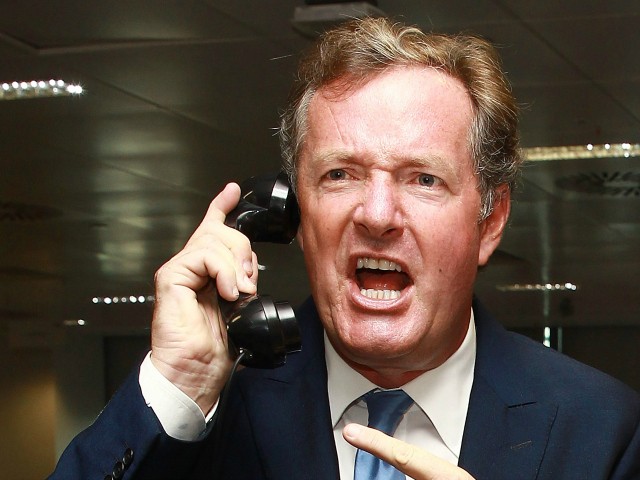 Good Morning Britain host Piers Morgan took to Twitter on Sunday to ask Americans to at least consider "giving up some of your guns."
He made this suggestion one day after 11 people were gunned down in a setting where the attacker was the only person armed.
Morgan tweeted:
Dear America,
I know this is a crazy idea from an ignorant foreigner – but why don't you just TRY giving up some of your guns, to see what happens?
Start with the AR-15, which is now used in almost every mass shooting. Make it more difficult, not easier, for lunatics to murder. pic.twitter.com/m49n7s8f2U

— Piers Morgan (@piersmorgan) October 28, 2018
Morgan's tweet overlooks many facts, the first of which is the synagogue attacker was armed with numerous handguns. And this makes sense when one considers the Rockefeller Institute of Government's study showing that mass public attackers choose handguns over any kind of rifle by a margin of three to one.
Also note Morgan's gun control push; his calls for making it "more difficult, not easier, for lunatics to murder." The synagogue attacker complied with the left's gun controls in acquiring his firearms, which he "legally" owned. Moreover, he complied with gun control to acquire a license to carry a gun.
When he chose to use his guns criminally he struck a target devoid of good guys with guns who were prepared to stop an attacker. In other words, he struck a target where no one would shoot back.
Morgan's solution to this problem is for law-abiding citizens to give up some of their guns so they are even less prepared to shoot back.
AWR Hawkins is an award-winning Second Amendment columnist for Breitbart News, the host of the Breitbart podcast Bullets with AWR Hawkins, and the writer/curator of Down Range with AWR Hawkins, a weekly newsletter focused on all things Second Amendment, also for Breitbart News. He is the political analyst for Armed American Radio. Follow him on Twitter: @AWRHawkins. Reach him directly at awrhawkins@breitbart.com. Sign up to get Down Range at breitbart.com/downrange.
http://feedproxy.google.com/~r/breitbart/~3/NKmFSzuc4_A/