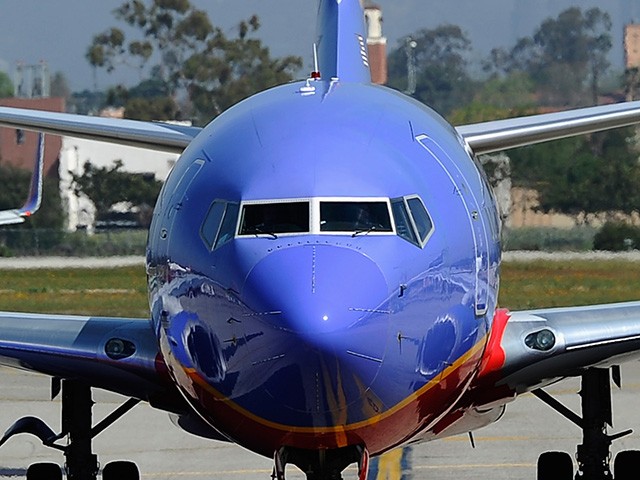 LOS ANGELES (AP) — A Southwest plane slid off a wet runway as it landed during heavy rain at Hollywood Burbank Airport north of Los Angeles.
The Federal Aviation Administration says no injuries were reported during the landing Thursday as a powerful fall storm swept through the region.
FAA spokesman Ian Gregor says the plane came to a stop in a graded area designed to slow aircraft that overshoot the runway. "Mud was hitting the windows," passenger Grant Palmer told CBS Los Angeles. "So that's when I started thinking, well, we do have a problem here. We must no longer be on the runway."
From outside the aircraft #burbank @SouthwestAir pic.twitter.com/9jg8fVYr07

— Moe Storch (@MoeStorch) December 6, 2018
One additional picture of the hull damage #burbank @SouthwestAir pic.twitter.com/qSxfBwqFVa

— Moe Storch (@MoeStorch) December 6, 2018
RAW VIDEO: Here's what the @SouthwestAir plane that rolled off the runway at Hollywood Burbank Airport looks like from #Sky2. Full story: https://t.co/XjWhhLUpXY pic.twitter.com/htLZddEeVa

— CBS Los Angeles (@CBSLA) December 6, 2018
"There was a little bit of sliding, and that was irregular," another passenger said. "I've never experienced that before."
117 passengers were on board the flight.
Meanwhile, snow has forced the closure of Interstate 5 in the Grapevine area between LA and the San Joaquin Valley. Transportation officials say vehicles were sliding in lanes along the key north-south route.
Closer to sea level, the system dumped rain that flooded highways and caused nightmare traffic conditions for commuters.
A mudslide closed Pacific Coast Highway and other roads in the Malibu area, where hillsides were denuded by recent wildfires.
http://feedproxy.google.com/~r/breitbart/~3/_uozrxviLsc/