Iran held its annual "Death to America" rally on Sunday to commemorate the seizure of the U.S. Embassy in 1979, leading to a 444-day
hostage crisis
in which the Iranian regime held 52 Americans prisoner.
This year's demonstrations came on the eve of a new round of U.S. sanctions taking effect following President Donald Trump's withdrawal from the Iran nuclear deal.
The rallies included such traditional activities as burning the American flag, burning effigies of Uncle Sam, people wiping their feet on mockups of U.S. currency, and re-enactments of the hostage crisis plus contemporary touches such as burning photos of President Donald Trump.
Here is a shot of the dollar stomp, in this case using mock $100-dollar bills:
Actual dollar bills were also burned, which is currently a much more expensive hobby than burning Iranian rials:
Signs and effigies mocking Saudi Arabia's King Salman bin Abdulaziz and Crown Prince Mohammed bin Salman were also popular:
American and Israeli flags were burned, sometimes in tandem:
Camera-ready protest signs with slogans written in English were in abundant supply:
"Down with the U.S.A." was a common protest slogan, while Israel was to be "wiped out":
CNN provided a shot of one of the hostage-taking re-enactments, in which a mock hostage covers his face with that of President Trump: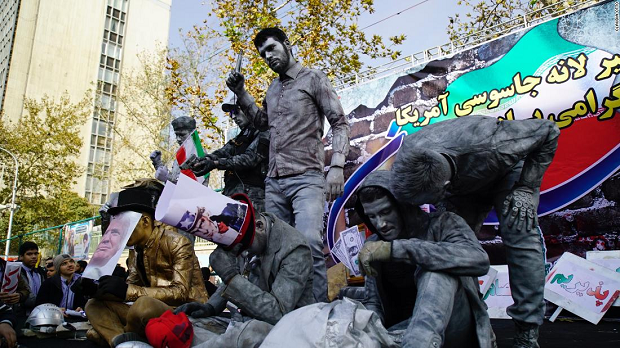 Video footage of the Iranian rallies from NBC News conveys a sense of their size:
Iranian state media claimed "millions" took to the streets to denounce the United States and swear fealty to Supreme Leader Ayatollah Ali Khamenei, with events held in "over 1,000 cities and towns," although foreign news services could not confirm the number of attendees. CNN reported that "hardline supporters of Iran's government" were bused into central Tehran for the rally.
"America has launched an economic and psychological war as a last resort," Islamic Revolutionary Guard Corps commander Maj. General Mohammad Ali Jafari said at the Sunday rally in Tehran. "But America's plots and its plans for sanctions will be defeated through continued resistance."
"You know well how many of your war veterans commit suicide every day due to depression," Jafari taunted President Trump.
"With the blessing of God and the insight and vigilance of the Iranian nation, the 13th of Aban this year will turn into a show of national prowess and unity, the humiliation of the Great Satan, the condemnation of the hegemonic nature of the notorious US regime and the Iranian nation's slap in the face of the deceitful US president and officials," a statement from the IRGC read, using the Iranian name for the annual event.
http://feedproxy.google.com/~r/breitbart/~3/GWkR_TExypQ/