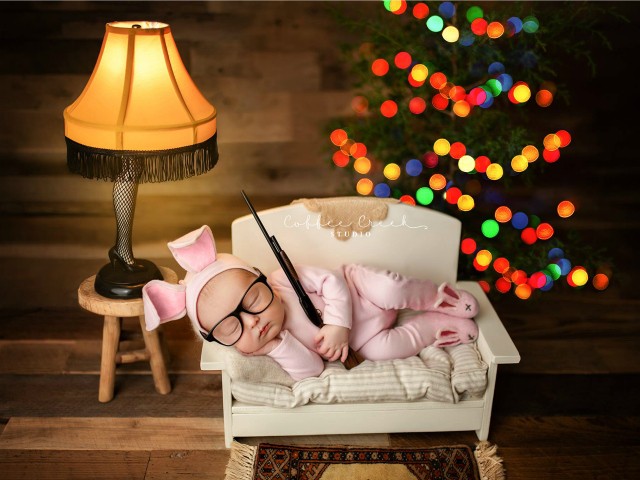 A photographer is defending the inclusion of a BB replica in a baby's photo shoot that was inspired by "A Christmas Story."
Fox News reports that Coffee Creek Studio's Amy Haehl shared a photo of a baby photographed with glasses and a replica BB gun to keep with the theme, causing backlash from many social media users:
One Facebook user responded, "Will now unfollow you. Who the hell would take a picture of a baby and a gun just for money. Such a waste since you are so talented. Think hard about your lack of principles."
Another wrote, "Also unfollowing and unliking you. Extremely distasteful…. Guns are never 'cute', not even as a prop or movie reference. Disgusting. The gun culture in this country is a disgrace."
Haehl explained that the photos were neither about politics nor gun policy. Rather, they were inspired by the classic movie A Christmas Story.
She posted a statement to her Facebook page, saying, "This photo is not about a baby posed with a 'gun'… it is about love, tradition, family, and happiness. [A Christmas Story] has encouraged smiles, laughter, and happiness for 35 years. It also happened to be filmed right here in the midwest where I was born and raised."
AWR Hawkins is an award-winning Second Amendment columnist for Breitbart News, the host of the Breitbart podcast Bullets with AWR Hawkins, and the writer/curator of Down Range with AWR Hawkins, a weekly newsletter focused on all things Second Amendment, also for Breitbart News. He is the political analyst for Armed American Radio. Follow him on Twitter: @AWRHawkins. Reach him directly at awrhawkins@breitbart.com. Sign up to get Down Range at breitbart.com/downrange.
http://feedproxy.google.com/~r/breitbart/~3/KEZmT0-zpeY/