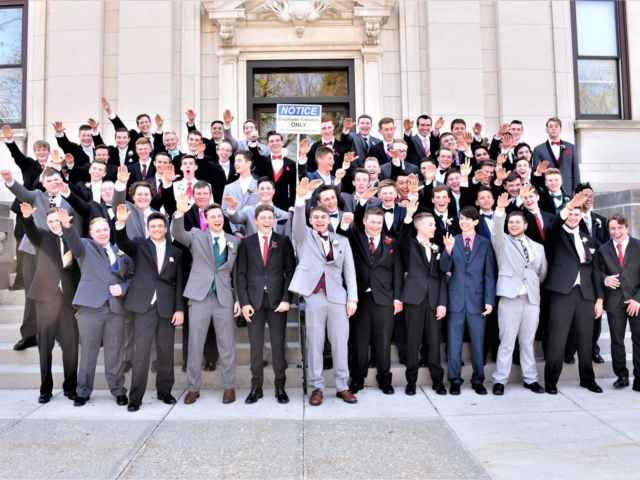 A Wisconsin school district is investigating an incident involving students from Baraboo High School, who appear to be giving the Nazi salute in a pre-prom photo shoot.
Scores of high school students appear to be giving the Nazi salute in a photo that was reportedly taken before attending their Junior Prom dance last spring.
The Twitter account @GoBaraboo posted the image, accompanied with the words: "We even got the black kid to throw it up #barabooproud."
The tweet, which has since been deleted, was captured via screenshot and re-shared on Twitter, causing the image to go viral.
this post has since been deleted, but i just want @barabooSD to be aware of the disturbing actions that are represented in this photograph. this is BEYOND sickening. pic.twitter.com/Fer5heTted

— carly sidey (@CarlySidey) November 12, 2018
"This is BEYOND sickening," said one Twitter user expressing her dismay, and tagging Baraboo's Twitter account in an effort to make the school aware of the image's existence.
The high school reacted on Twitter the following day, stating that the photo does not reflect their educational values, and that they would be conducting an investigation into the matter.
The photo of students posted to #BarabooProud is not reflective of the educational values and beliefs of the School District of Baraboo. We are investigating and will pursue any and all available and appropriate actions, including legal, to address.

— Baraboo Schools (@barabooSD) November 12, 2018
About an hour later, the Baraboo Police Department also issued a statement on Twitter, adding that they too were aware of the photo, and would be assisting the school district with their investigation.
The Baraboo Police Department is aware of a controversial photo of a group of high school students that has been posted to social media. Officers are assisting the Baraboo School District with their investigation into this matter.

— Baraboo PD (@BarabooPD) November 12, 2018
"It is so hard to find the words…" began The Auschwitz Memorial in a tweet condemning the photo on Monday morning.
"This is why every single day we work hard to educate. We need to explain what is the danger of hateful ideology rising. Auschwitz with its gas chambers was at the very end of the long process of normalizing and accommodating hatred."
One student, Jordan Blue — who was in the photo, but did not make the gesture — told a VICE contributor that the photographer told the students to "make the sign," adding that he was unable to walk away before the photo was taken.
"I knew what my morals were and it was not to salute something I firmly didn't believe in," said Blue, adding that he has been bullied by these same classmates, "I truly and firmly believe we need to make a change — it needs to stop."
Peter Gust, the parent who took a photo, says that he never instructed the students to perform a Nazi salute and that he was simply telling them to wave goodbye to their parents, according to Madison365.
Blue told Madison365 that Gust had told the students to raise one hand for a photo, "Which doesn't give a bunch of teenagers a lot of guidance on how to raise their hands," added Blue.
Gust has since removed the photo from his website, which had been displayed since May, along with several other pre-prom photos he had taken last spring.
"To anyone that was hurt, I sincerely apologize," Gust added.
You can follow Alana Mastrangelo on Twitter at @ARmastrangelo and on Instagram.
http://feedproxy.google.com/~r/breitbart/~3/T6WiDf8AtLA/