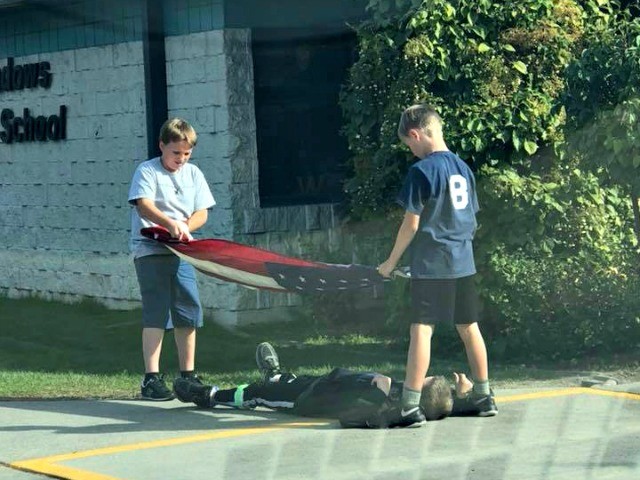 A photo of three Idaho boys going to great lengths to make sure an American flag did not touch the ground is capturing the hearts of Internet users everywhere.
The three boys—Naylan Tuttle, Jack LeBreck, and Casey Dolan—are fifth-graders at Hayden Meadows Elementary School in Hayden, Idaho, and were tasked Wednesday with taking the American flag down and ensuring it was folded properly, KGW reported.
One parent arriving at school to pick up her kids noticed the three boys going above and beyond to make sure the flag did not touch the ground and decided to snap a photo.
The photo, shot by parent Amanda Reallan, shows LeBreck laying flat underneath the flag as the other boys folded it to ensure it would not fall to the ground.
"We've had a bunch of close calls," said Jack LeBreck, the boy who laid down on the pavement. "But I thought it would happen because it was kind of a windy day. So I just thought of laying down… and seeing what would happen."
The boys say their inspiration to protect the U.S. flag came from a custodian by the name of Mac McCarty who worked at the school.
"It was all because of our custodian, Mr. Mac," LeBreck said.
McCarty, a veteran who served 20 years in the Air Force, chooses the kids tasked with putting up and taking down Old Glory and teaches them how to properly store and fold the flag.
"What they did yesterday was obviously all them… laying on the ground and all that," McCarty said. "And I'm very proud."
Reallan posted her photo of the boys to Facebook, where it went viral, receiving more than 13,000 shares as of Saturday afternoon.
http://feedproxy.google.com/~r/breitbart/~3/tyYvzryd7Bg/