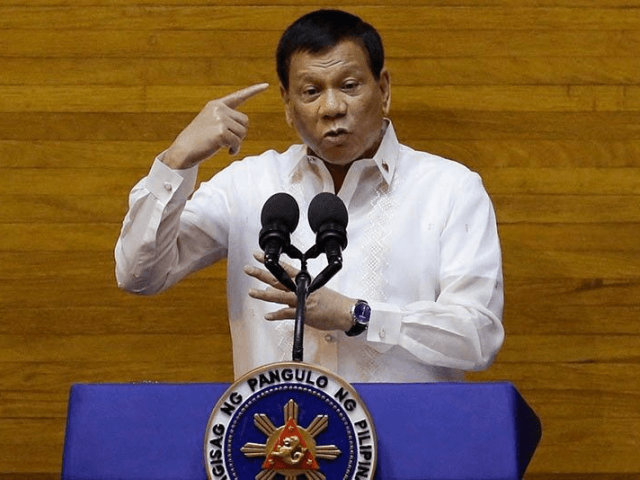 Philippine President Rodrigo Duterte issued yet another tirade against the Catholic Church on Monday, accusing Caloocan Bishop Pablo Virgilio David of illegal drug use and threatening to behead him for buying drugs.
Duterte also advised Filipinos, over 90 percent of whom and Christian and 86 percent Catholic, to stop going to church and build private chapels in their homes to starve the Vatican of their donations.
The Philippine president issued the remarks at an event observing the launch of a water supply project in southern Davao City, Duterte's hometown and where he still lives. Duterte refused to move to Manila's presidential palace, Malacanang, upon his election in 2016, because of rumors that the palace is haunted. Quotes reproduced in various Philippine media outlets do not clarify how the subject of the Catholic Church came up in his remarks at an infrastructure event.
The Philippine Star notes that Duterte used the opportunity of the water supply project to target Bishop David in particular, calling him a drug abuser.
"I'm telling you, David. I am puzzled as to why you always go out at night. I suspect, son of a whore, you are into illegal drugs," Duterte reportedly said in a mix of Tagalog and English. "Bishop, ask someone to buy drugs for you. I will decapitate you."
"I don't care if you are a bishop. If you get involved in illegal drugs, you will destroy the Filipino. We won't really understand each other," he continued.
Duterte also attacked the Vatican generally, urging the faithful to pray at home and not fund the Catholic Church.
"How people from 3,000 years ago predict or project what is happening today? You build a chapel on your own house and pray there, you don't have to go to church to pray for these idiots," Duterte advised.
"When someone is baptized, you have to pay … when someone dies, you have to pay," he continued.
Duterte has taken to making Bishop David a target, accusing him last week of stealing church donations.
"You, David, you be quiet. You go on asking for contributions … Where do the people's money go? The fool just keeps on asking, there is even a second collection," Duterte said in separate remarks.
David responded to last week's attack by denying the allegations. He has remained one of the Duterte administration's harshest critics, particularly urging Duterte to stop the use of extrajudicial killing to combat illegal drug use, hence triggering accusations that David himself uses drugs. Duterte has not presented any evidence confirming David's alleged drug use.
David has referred to Duterte as a "very sick man" in the past and urged the nation to "pray for him … pray for our country."
Duterte has had a difficult time keeping a promise he made to the Catholic Church in July to stop antagonizing the faithful and the clergy. He made the apology after asserting that the Catholic God was "stupid" and joking about founding his own faith. After a national outcry against his remarks, Duterte vowed to stop attacking the Vatican. Less than 24 later, Duterte threatened revenge on God in the name of those who call his extrajudicial killing policy anti-Christian. He was forced to issue an apology immediately after.
"If it's the same God, I'm sorry, that's how it is. Sorry, God," Duterte said. "I only apologize to God and nobody else."
He did not stop his attacks on the church following that apology. In August, he asked a crowd at an event in Malacanang whether any priests or bishops were present, adding, "I want to kick your ass." He also condemned the veneration of Catholic saints.
"We are assigned in every parochial thing, there's something. 'Yours is San Isidro. Your saint.' And who is this shit?" he asked. "Who is this guy San Isidro that every town fiesta, we kill our cows, carabaos, just to spend because it is the fiesta of San Isidro?"
"It's only one God, God the Father. He's not even the father. He's God, period," Duterte then concluded.
Most recently, in early November, Duterte used the occasion of All Saints' Day to call the Catholic saints "drunkards" and disparage those who venerate them once more.
"These f*cking Catholics, why do they observe All Souls' Day and All Saints' Day? We don't even know who those saints are. Who are those stupid saints? They're just drunkards," Duterte remarked at an event to announce humanitarian aid for typhoon victims. "Just stay with me. I'll give you one patron saint so you can stop searching for one. Get hold of a picture of mine and put it on the altar — Santo Rodrigo."
Duterte has publicly stated on many occasions that a Catholic priest molested him when he was a young adolescent, naming a priest who died accused of several sexual assaults in the Philippines and the United States as his abuser. The Philippine president has also handed out free copies of a book on sexual molestation by Catholic priests, titled Altar of Secrets, to fans at public events.
Follow Frances Martel on Facebook and Twitter.
http://feedproxy.google.com/~r/breitbart/~3/6CZeg9apx4U/