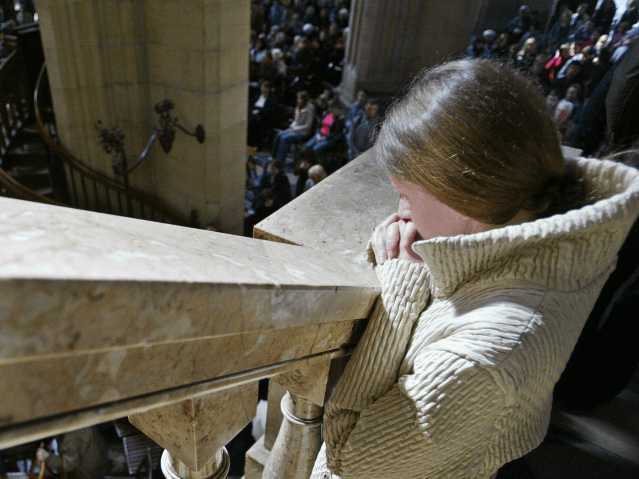 ROME — The Catholic Church has experienced greater net losses due to religious conversion than any other religion in the U.S., the Pew Research Center reported Wednesday.
While there are some 51 million Catholic adults in the U.S. — just over one-fifth of the total adult population — a remarkable 13 percent of all U.S. adults are former Catholics who now identify as Protestants, religious "nones," or some other religion.
From 2007 to 2014, the portion of the population identifying as Catholic dropped from 24 percent to just 21 percent.
In the United States there are significantly more converts out of the Catholic faith than into it, Pew found. Roughly 2 percent of American adults are converts to Catholicism, having been raised in another religious tradition.
Pew recently reported that confidence in Pope Francis has hit an all-time low, in the face of his refusal to answer allegations that he rehabilitated serial homosexual abuser Cardinal Theodore McCarrick.
Fewer than a third of U.S. adult Catholics (30 percent) say Francis is doing an "excellent" or a "good" job addressing the sex abuse crisis, Pew revealed, a drop of 24 points since 2015 and 14 points from when the Research Center last asked the question in January 2018.
Meanwhile, a CNN poll in September showed the pope's overall approval rating among U.S citizens dropping below 50 percent for the very first time since his election.
According to veteran Vatican analyst John L. Allen, Jr., the Catholic Church could be facing "its gravest crisis since the Protestant Reformation" in because of the worldwide clerical sexual abuse scandals.
Now, "the eyes of the Catholic world will be on how they choose to engage it," said Allen, who heads up the Catholic online news outlet Crux.
Allen also recently noted that Pope Francis is suffering from a "trust deficit" among Catholics as the faithful demand greater accountability and transparency.
Two major issues — the Vatican-China deal and the sex abuse crisis — underscore the need for Pope Francis to move beyond his tactic of silence in the face of problems with the expectation that people will simply "trust him," Allen suggested.
In its Wednesday report, Pew offered further data regarding the Catholic Church in the United States.
Regarding the ethnic breakdown of Catholics, some six-in-ten Catholic adults are white, a third are Latino, and smaller percentages identify as black, Asian American, or another racial or ethnic group.
Hispanics, however, are growing as share of the adult population and data suggest that this share is likely to continue to grow, Pew found. Among the younger generation of Catholic millennials, there are nearly as many Hispanics as whites.
Politically, Catholic voters are more or less evenly split between those who identify with or lean toward the Democratic Party (47 percent) and those who favor the GOP (46 percent), but there is a significant divide between practicing Catholics and non-churchgoers, with churchgoers leaning far more Republican.
In 2016, a majority of weekly churchgoers of all religions voted for Donald Trump over Hillary Clinton by a 16-point margin (56 percent to 40 percent), whereas those who said they do not attend religious services at all backed Clinton over Trump by a whopping 31-point margin (62 percent to 31 percent).
Pew said that recent elections have followed a similar "pattern" dividing the faithful according to religious practice, with churchgoers tending to be more politically conservative.
Follow Thomas D. Williams on Twitter Follow @tdwilliamsrome
http://feedproxy.google.com/~r/breitbart/~3/uNei5xq-hgE/