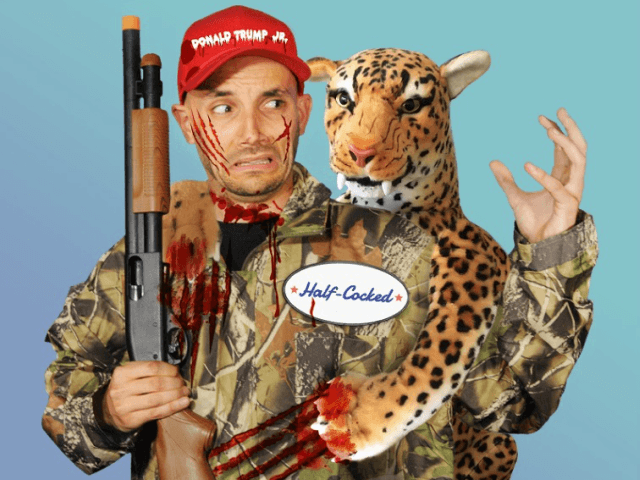 The left-wing animal activist organization People for the Ethical Treatment of Animals (PETA) is knocking Donald Trump Jr. over his penchant for hunting, selling a Halloween costume of him carrying a bloody leopard.
For a small sum of $169, PETA is encouraging its activists to place pre-orders for its "Donald Trump Jr. Hunting Halloween" costume, which includes a blood-soaked leopard stuffed animal, a blood-stained camouflage jacket with a name tag that says "Half-Cocked," and a red cap with Trump Jr.'s name on it.
The listing indicates that a prop gun is "not included" in the getup.
PETA says they got the idea for the costume from the "trophy-hunting photo that showed the Trump brothers grinning over the body of a dead leopard."
"There's nothing more frightful than an entitled ghoul who gets his kicks from gunning down wild animals," PETA President Ingrid Newkirk announced Thursday. "This Halloween, PETA will help people poke fun at someone who believes that the world and its wildlife are here for him to take."
Trump Jr. and his brother, Eric Trump, are both hunting enthusiasts known for hunting big game, and President Trump's 40-year-old son has held leopard and elephant trophies from his big game hunts.
The animal rights group said that all proceeds from the sales of the costume would go towards its activism efforts, which include building tombstones for dead lobsters and creating billboards urging Maryland residents not to eat crabs.
**UPDATE** Donald Trump, Jr. responded on Twitter:
Ironically, there are few orgs in world history that have as much animal blood on their hands as PETA. You hypocrites are literally an animal slaughter factory.

"In the last 11 years, PETA has killed 29,426 dogs, cats, rabbits, & other domestic animals." https://t.co/fqXJQ9ACFQ https://t.co/FWatgzpcAi

— Donald Trump Jr. (@DonaldJTrumpJr) September 20, 2018
http://feedproxy.google.com/~r/breitbart/~3/HEK59mUF5H0/