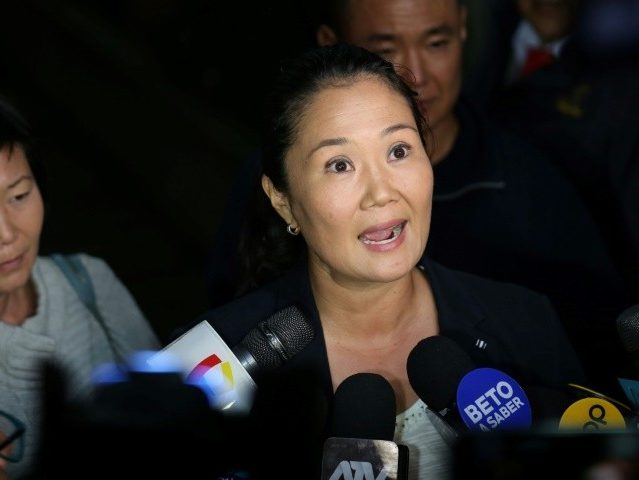 Peruvian Judge Richard Concepción Carhuancho ordered the arrest of conservative opposition party leader Keiko Fujimori on Wednesday, along with 17 other politicians, on charges of having accepted bribes and laundered money from the Brazilian contractor Odebrecht.
Carhuancho described Fujimori as a "grave flight risk" in his decision. She turned herself in to authorities on Wednesday morning.
Fujimori's arrest closely follows the repeal of a pardon for her father, former Peruvian president Alberto Fujimori. The 80-year-old received a pardon on humanitarian grounds under former president Pedro Pablo Kuczynski in December. He was sentenced to 25 years in prison for alleged human rights violations during his tenure.
The government of current President Martín Vizcarra Fujimori's brother, recently suspended Fujimori's brother, Kenji, from Congress while he is under investigation for unrelated corruption charges.
Keiko Fujimori, the head of the conservative Popular Force party, turned herself in early Wednesday morning after Carhuancho ordered her arrest. According to Peru's El Comercio newspaper, the judge wrote that Fujimori was a "great flight risk" because "she has constructed a criminal organization within the Popular Force party that had among its objectives to obtain political power and thus have a level of influence and interfere in the legislative and judicial branches."
Fujimori and 17 others affiliated with the party will be detained for ten days, the Peruvian newspaper reported.
Popular Force is a right-wing party whose stances include strong support for law enforcement, lowering government spending, and a smaller role for government in the economy.
The arrests are the result of a testimony by Jorge Barata, described as "Odebrecht's strongman in Peru," who claimed that the firm gave Popular Force campaign donations in 2011. That testimony alleged the party took around one million dollars, though the court statement published by El Comercio accuses the party of taking $649, 573. The legislators who allegedly benefitted from the donation are among those arrested on Wednesday.
Peruvian media note that Judge Carhuancho has already ruled on several high-profile Odebrecht cases. Carhuancho ordered preventative detention measures similar to those against Keiko Fujimori against former presidents Alejandro Toledo and Ollanta Humala, both accused of taking money from Odebrecht.
Odebrecht is a Brazilian construction firm that, through multiple police investigations across the continent, has been found to have developed elaborate corruption schemes throughout South America. In most cases, Odebrecht would bribes politicians to secure a monopoly over government infrastructure projects. Odebrecht allegedly bribed politicians of all political ideologies throughout the continent. In Brazil, the company's native country, its interactions with politicians triggered the investigation known as "Operation Car Wash," in which dozens of elected officials from almost every political party in the country were found to have taken kickbacks to secure infrastructure contracts.
Keiko Fujimori's attorney Giuliana Loza told reporters that the decision to imprison her client was "abusive" and "arbitrary."
"There is no conviction or proof against her," Loza argued. "An investigation that has taken over a year and there is no proof, we do not understand how they can order a preliminary detention."
2018 has proven a dramatic year from the Fujimori family despite Keiko's close loss to Kuczynski in the 2016 election, largely fueled by the rivalry between Keiko and Kenji.
Kenji Fujimori abandoned the Popular Force party in March after initial rumors surfaced that Keiko had taken Odebrecht money, stating the "party no longer has moral authority." Less than a month later, the Popular Force party, under Keiko's control, published a video allegedly showing Kenji discussing taking a bribe from the Kuczynski administration to support the president's pet projects in Congress. Kuczynski tendered his resignation from the presidency within two weeks of these revelations under extreme pressure to do so or face impeachment. The impeachment proceedings were tied not to the Kenji Fujimori tape, but to accusations that Kuczynski had taken money from Odebrecht.
Three months later, Congress voted to suspend Kenji on accusations of corruption.
The party leader's younger brother has remained mostly out of the spotlight since his suspension, resurfacing this month following the news that father Alberto Fujimori would be forced to return to prison. Vizcarra's government overturned the pardon Kuczynski had granted the former president, whose legacy includes the defeat of the deadly Shining Path Marxist terrorist organization. Keiko and Kenji issued rare statements in agreement that the forcible return of the octogenarian to prison was a sad day for their family.
Alberto Fujimori has spent the past two weeks undergoing treatment for heart disease. He released a statement last week urging Vizcarra to issue a second pardon, as the ruling overturning it came from the Supreme Court, not the executive branch.
"I want to ask the president of the republic and members of the judiciary one thing only: Please, don't kill me," Fujimori said. "If I return to prison, my heart will not cope. It is too weak to go through the same thing again."
Follow Frances Martel on Facebook and Twitter.
http://feedproxy.google.com/~r/breitbart/~3/3AeGHLog7D8/