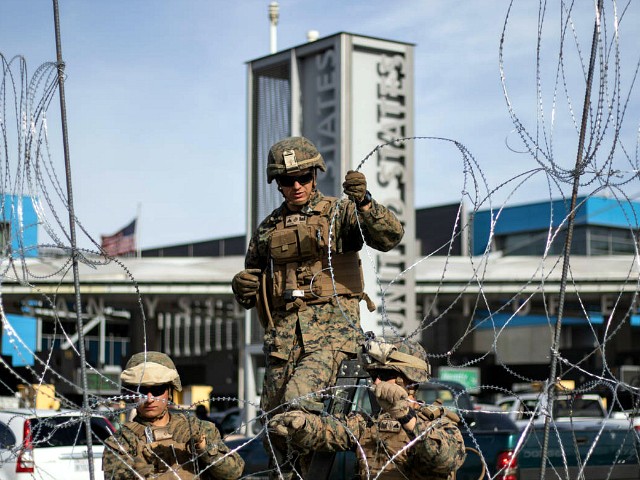 The Pentagon said Tuesday that the U.S. military border deployment will cost approximately $72 million.
"The total cost of the operation has yet to be determined and will depend on the total size, duration, and scope of the [Department of Defense] support to [Department of Homeland Security]," said Pentagon spokesman Army Col. Rob Manning in a statement.
Manning said the estimate is based on the current number of 5,900 active duty troops deployed. The figure includes the estimated cost to deploy, operate, sustain, and redeploy forces.
He added that the estimate only includes defense forces and support requested and approved as of November 19, when troops began their mission.
The approximately 5,900 troops are spread out across Texas, Arizona, and California. The units deployed included engineering, transportation, logistics, medical, and military police.
The president ordered active duty troops to the border after a large caravan consisting of several thousands of migrants from Central America headed to the U.S. overran the Guatemalan border into Mexico. Troops have set up barriers and other obstacles at the southwest border, ahead of their arrival.
Critics of the president have slammed the deployment as a waste of resources. They also assert it is a "political stunt" — which Defense Secretary Jim Mattis has flatly rejected.
The deployment is slated to last through December 15, though defense officials say that could always be extended if necessary. More than 3,000 migrants have reportedly reached the border between Mexico and California in recent days.
On Monday, Politico reported that U.S. Army North Commander Lt. Gen. Jeffrey Buchanan, who is overseeing the deployment, said troops would begin redeploying to their home stations next week.
U.S. Army North later put out a statement that said there are no specific timelines for redeployment.
http://feedproxy.google.com/~r/breitbart/~3/5skfiuudkGk/