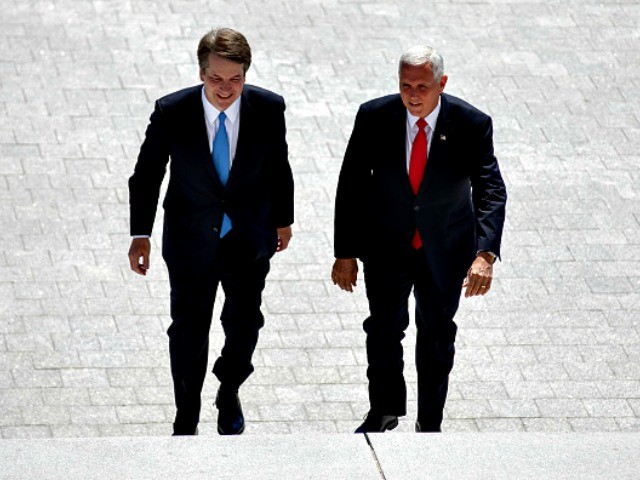 Vice President Mike Pence said on Wednesday that he and President Donald Trump want to hear from Christine Blasey Ford — the woman who has accused Supreme Court nominee Brett Kavanaugh of attacking her in high school — but that the "process" the Democrats have used to put last-minute doubt into the confirmation process has been unfair to Kavanaugh and his family.
"Let me just say to begin with that I had the opportunity to meet Judge Kavanaugh before the president made a decision, and to review his record," Pence told Tony Perkins, president of the Family Research Council on his Washington Watch radio program. Pence went on to say:
Judge Brett Kavanaugh is a man of integrity, deeply committed to his family, with a lifetime of service to this country in a variety of roles. On the District of Columbia Court of Appeals more than 300 opinions that reflect a strong and principled judicial philosophy that again interprets statutes as written, will interpret the Constitution as written, will not legislate from the bench, and we believe that he will make an outstanding justice to the Supreme Court of the United States.

That being said, as President Trump has said over the last several days, with the allegations that have emerged, it's important that we give it time, that we hear from both sides, and we have every confidence that Senator Grassley and the Republicans in the Senate will handle these allegations properly. I know Senator Grassley has laid forward a range of options from an open session hearing to a closed session to private staff interviews, and they've already — the staff and the judiciary committee has already begun following up on leads — following Dr. Ford's allegations. And that's all very important.

And again — we're confident the Senate will handle it, but that being said, what Senator Diane Feinstein has done here — what Democrats in the Senate have done here — is very unfair to Judge Brett Kavanaugh and it is a great disservice to the process. The fact that Senator Feinstein apparently had this letter more than six weeks ago, never raised the issue in her interview with Judge Brett Kavanaugh, never brought the issue to the attention of other members of the judiciary committee, it's a great disservice to the process, and to the American people, and, of course, to Judge Brett Kavanaugh and his family.
Pence also said the Democratic senators on the Judiciary committee also harmed the confirmation process by how they handled questioning Kavanaugh at the hearings.
"And frankly, it follows on conduct by many Democrats on the Senate Judiciary Committee who I think virtually embarrassed themselves during the public hearings that were on display just a few short days ago," Pence said. "So, that being said, I would just say the president and I believe that Judge Brett Kavanaugh will make an outstanding addition to the Supreme Court of the United States."
"We're very confident that the Senate will handle this all in a proper and appropriate way," Pence said.
Follow Penny Starr on Twitter
http://feedproxy.google.com/~r/breitbart/~3/inU5MGFdiwE/