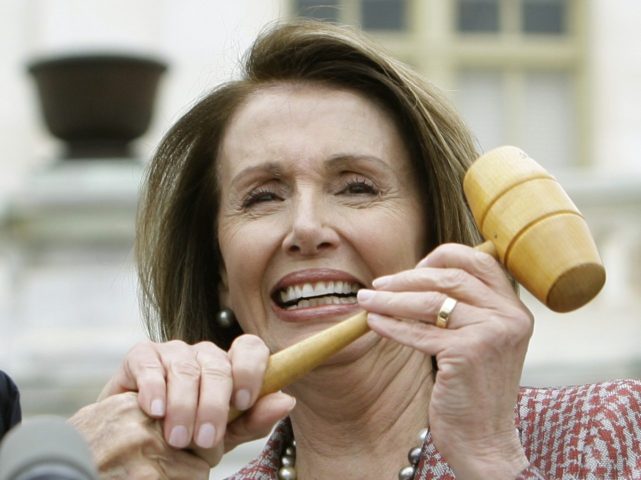 House Minority Leader Nancy Pelosi told supporters over the weekend that they should not "fall for the bait" of President Donald Trump warning about the threat posed by thousands of migrants heading through Mexico to the U.S. border or the countless investigations Democrats will launch into the president if they take back the House.
'"Trump wants voters to 'think the Democrats are all about impeachment, investigation, caravans, 'scaravans,'" Pelosi said in an East Bay Times report. "Don't take the bait, just stick with health care, good-paying jobs, and clean government."
The Times reported: 
Dozens of volunteers wearing rainbow flag wristbands emblazoned with Pelosi's name called and texted voters in competitive districts in California and around the country, urging them to get to the polls. Whenever a voter on the line said they were backing Democrats, volunteers rang a bell and burst into cheers.

Pelosi radiated optimism that her party will take back the House. In an interview, she said Trump's doubling down on divisive immigration messages like ending birthright citizenship and sending troops to the U.S.-Mexican border amounted to "scare tactics."
Pelosi claimed in the report that Trump is "condoning the use of violence."
"As president, he doesn't realize that his words weigh a ton and that they fall on some ears that may be more fragile than he might imagine," Pelosi said. "He thinks he's funny when he says some of these things, but the consequences falling on the wrong ears are not funny, they're tragic."
Pelosi told the Times that if Hillary had become president she wouldn't care about regaining the Speaker's gavel.
"Listen, if Hillary had won, I'd be jubilant to go home," Pelosi said. "I was shocked that she didn't win — I still can't get over it, especially in terms of who she lost to."
But now she has to be Speaker again to protect Obamacare from further GOP dismantlement, as well as the need for "a woman at the table."
"None of us are indispensable, but some of us are just better at what we do," Pelosi said. "That's my case."
Pelosi said she stands by the leftist policies in place in her San Francisco district.
"San Francisco values, that's what we're about," Pelosi said.
Follow Penny Starr on Twitter
http://feedproxy.google.com/~r/breitbart/~3/hskt75XbeMY/