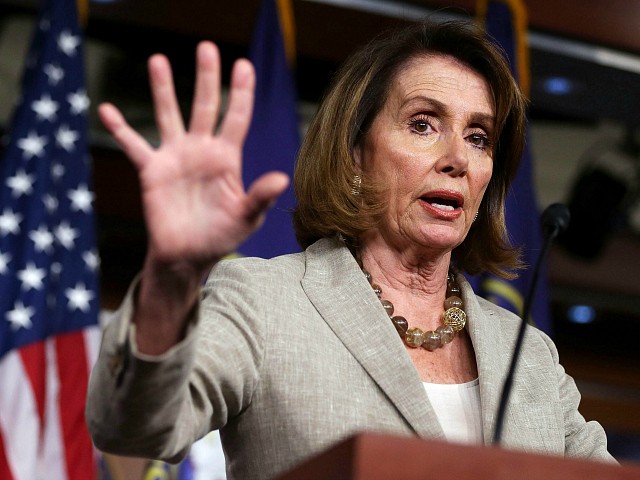 House Minority Leader Nancy Pelosi (D-CA) said on Thursday that she will not agree to funding President Donald Trump's border wall even in exchange for a permanent fix for Deferred Action for Childhood Arrivals (DACA) recipients to avoid a government shutdown.
Trump is scheduled to meet with Senate Minority Leader Chuck Schumer (D-NY) and Pelosi on Tuesday to work on a short-term spending deal to prevent the government from shutting down on December 21.
When asked on Thursday whether she would agree to "some degree of wall funding" in exchange for "a permanent, bonafide solution on DACA," Pelosi replied, "No."
Pelosi said funding for the border wall and DACA are "two different subjects."
Trump has indicated that he would be willing to shut down the government before Christmas if he does not get $5 billion of the $25 billion needed for his border wall.
Schumer indicated that he would be open to approving $1.6 billion in border-wall funding but got immediate backlash from left-wing Democrats like Rep.-elect Alexandria Ocasio-Cortez (D-NY), who demanded "$0" for Trump's "racist" border wall.
Pelosi is likely to take a tough stance on funding the border wall because she needs the support of left-wing Democrats like Ocasio-Cortez and Democrats in the Congressional Hispanic Caucus (CHC) to regain her Speakership.
Rep. Vicente Gonzalez (D-TX), a CHC member who currently supports Pelosi's Speakership bid, said this week that Pelosi should be "concerned" about the CHC's support for her Speakership if she caves on the border wall.
"I know Nancy needs all the support she can get right now. If they give away border-wall funding, I think there would be an effect on how the Congressional Hispanic Caucus would feel come Jan. 3," he told the Wall Street Journal. "She should be very concerned that members of the CHC don't abandon her Jan. 3 and I'm hoping she doesn't abandon us while she's negotiating this next budget."
Pelosi hinted even before the midterm elections that she would not budge on funding Trump's border wall, telling Harvard students that she was willing to trade "nothing" to give Trump his border wall.
Pelosi said then that the border wall is "immoral, expensive, ineffective, not something that people do between countries."
She also claimed that the wall is a "manhood issue for the president."
"And it's wrong, and I'm not interested in that," she continued.
http://feedproxy.google.com/~r/breitbart/~3/3Z41SaVNb9c/