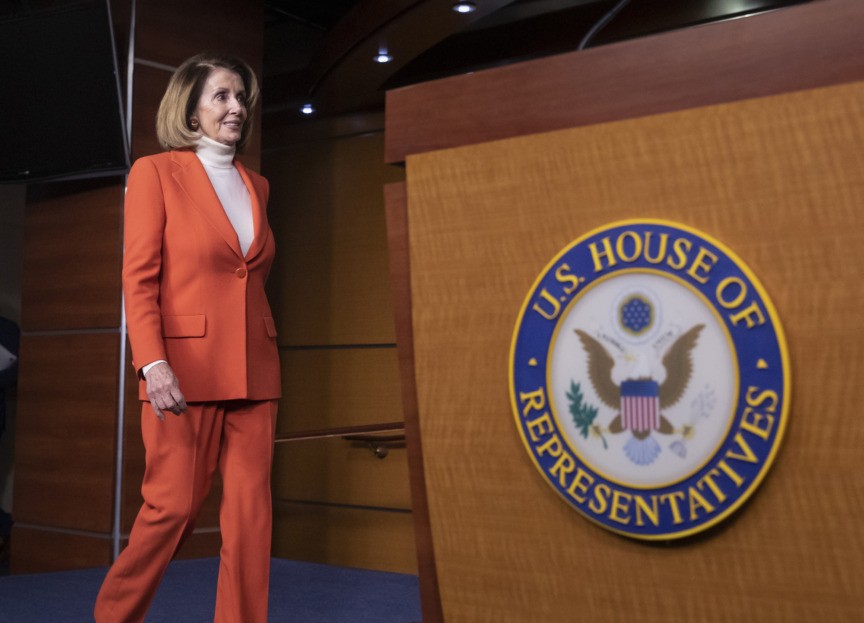 House Minority Leader Nancy Pelosi (D-CA) sent a Tuesday evening letter to House Democrats "respectfully" asking for their votes in Wednesday's Speaker election and specifically praised her party's "historic" freshman class that she predicted would have a "transformative" impact on Congress.
Pelosi, who needs a majority of Democrats to be nominated, is expected to easily win on Wednesday, but the San Francisco Democrat could have some more work to do to secure the 218 votes needed on House floor in January to regain her Speakership.
"I respectfully ask for your vote for Speaker of the House of Representatives."-@NancyPelosi in letter to House Democrats on the eve on her House Speaker election. pic.twitter.com/npp1WEsTlA

— Craig Caplan (@CraigCaplan) November 28, 2018
In her letter, Pelosi praised the party's freshmen hours after 20 incoming House Democrats signed a letter supporting Pelosi. Other incoming Democrats on her left like Rep.-elect Alexandria Ocasio-Cortez (D-NY) have also helped Pelosi stymie the efforts of the more moderate anti-Pelosi faction that has been trying to prevent Pelosi from getting to 218 votes on the first ballot without putting forward their own challenger.
Letter from 20 incoming House Dems backing Pelosi for speaker pic.twitter.com/3B15AgjN4d

— Joe Perticone (@JoePerticone) November 27, 2018
Pelosi also called for sessions on the House floor to be "deemed America's Town Hall meetings" and lauded her party's freshman class for "its diversity" and "commitment to deliver progress in the lives of hard-working Americans."
"Their impact will and must be transformative for the Congress and the Country," she wrote.
Pelosi continued:
The American people voted for a check and balance on President Trump by sending a Democratic Majority to Washington. In order for us to honor that charge and engage the public, I suggest that our sessions on the House Floor be deemed America's Town Hall meetings. As President Lincoln said, "public sentiment is everything." The more open the Congress, the more the public will be engaged in our proceedings, and the better we can govern.

I am grateful to so many Members of the 116th Congress for their support and ideas. We all agree that history is in a hurry, and we need to accelerate the pace of change in Congress. We have been blessed with a Democratic Caucus now enhanced by an historic Freshman Class. My responsibility is to recognize the myriad of talent and tools at our disposal to take us in to the future by showcasing the idealism, intellect and imagination of our Caucus.

The public has entrusted us to save our democracy. It is our patriotic duty to deliver a more open, responsive, bipartisan and unifying government For The People.

I respectfully ask for your vote for Speaker of the House of Representatives.
http://feedproxy.google.com/~r/breitbart/~3/NZ5_0KdQ_XY/