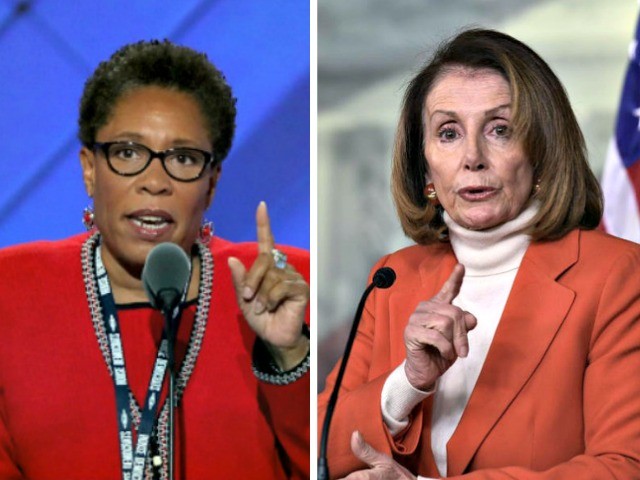 House Minority Leader Nancy Pelosi's (D-CA) allies are slamming Rep. Marcia Fudge (D-OH), a potential challenger, for being on the wrong side of LGBT issues as they seek to undercut Fudge's potential candidacy.
The LGBT constituency is one of the party's most important, and Pelosi's allies have been hyping up Fudge's refusal to co-sponsor the Equality Act that would extend civil rights protections to "sexual orientation and gender identity."
The Washington Post noted last year that Democrats opposed to the Equality Act at the time included Sens. Joe Manchin (D-WV) and Joe Donnelly (D-IN) and Reps. Fudge and Dan Lipinski (D-IL). An official from the Human Rights Campaign and numerous left-wing reporters hammered home that point in recent days.
Marcia Fudge is one of two Democrats in the House who did not co-sponsor the Equality Act, which would ban discrimination against LGBTQ people in the United States at the federal level.

If this is the pick of @SethMoulton and @TimRyan, they're gonna be in for a rude awakening. https://t.co/It3i7ZXWEj

— Charlotte Clymer🏳️‍🌈 (@cmclymer) November 15, 2018
Marcia Fudge was one of only two House Democrats to refuse to cosponsor a federal ban on anti-LGBT legislation, so you may want to tell this Democrat who's pushing to dump Pelosi and make her 3rd in line for the Presidency how you feel about that. https://t.co/f96Zg49yXm

— Mark Harris (@MarkHarrisNYC) November 15, 2018
I will note that Marcia Fudge is one of two Democratic members who refuses to cosponsor the Equality Act, which would extend civil rights protections to sexual orientation and gender identity.

(The other is Dan Lipinski.) https://t.co/rte68HKS35

— Matt Fuller (@MEPFuller) November 14, 2018
They think they're going to make Marcia Fudge Speaker?

She's well known to be skeptical-to-hostile to LGBTQ rights, and is one of the only Dems not to cosponsor the Equality Act. She and Dan Lipinski are the only holdouts/1 https://t.co/s329t9vP6O

— Ryan Grim (@ryangrim) November 15, 2018
Fudge, who is considering challenging Pelosi for Speaker, is one of 17 Democrats who have signed a pledge to not support Pelosi on the House floor, which would greatly complicate Pelosi's chances of getting the 218 votes required to regain her Speakership.
The race has already gotten nasty as identity politics has taken center stage, with Fudge even saying on Thursday that there is an "undertone of racism" in the party's caucus.
"My concern about the caucus is the same concern I have about the country," Fudge told HuffPost. "Just as there is this undertone of racism in the country, there's also that in our caucus."
Pelosi, who has already used the gender card in her campaign to lock down the votes she needs to get back her Speakership, is now using the LGBT card as she attempts to cobble together votes from the party's numerous constituencies and identity-based groups.
The San Francisco Democrat, who has always been one of the savviest political operators, perhaps anticipated that Fudge could potentially be a rival before the midterms.
At a Harvard event weeks before the midterm elections, Pelosi, when asked what she would like to accomplish in the next Congress if she regained her Speakership, specifically mentioned the Equality Act, as Breitbart News noted at the time.
http://feedproxy.google.com/~r/breitbart/~3/PZas64ydqmI/