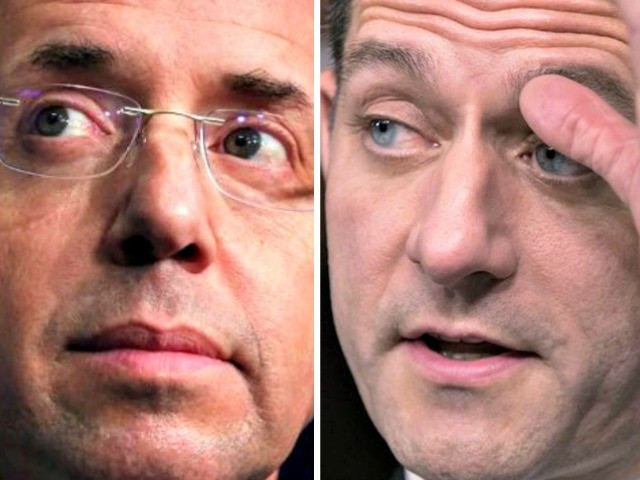 House Speaker Paul Ryan (R-WI) said Wednesday that Congress "shouldn't step in the way" of a highly-anticipated meeting between President Donald Trump and Deputy Attorney General Rod Rosenstein, following a New York Times report claiming the second highest-ranking Justice Department official considered secretly taping the president in the White House and lobbied members of his cabinet to invoke the 25th Amendment.
Speaker Ryan's comments on Wednesday come as the House Freedom Caucus is pushing for Rosenstein to testify before the House Judiciary Committee. Caucus leader Rep. Mark Meadows (R-NC) said Tuesday that the group wants Rosenstein to answer questions about the explosive New York Times piece.
It's unclear if Thursday's meeting with President Trump will lead to Rosenstein's resignation or firing, or if he will continue in his job, which includes overseeing special counsel Robert Mueller's investigation of Russian meddling in the 2016 election.
In a tweet last night, Meadows affirmed the official Freedom Caucus's position regarding the embattled Justice Department official: "Rosenstein should come before the House Judiciary Committee within the week and testify under oath about his alleged comments, or he should resign immediately."
Tonight, the @freedomcaucus took an official position:

Deputy AG Rod Rosenstein should come before the House Judiciary Committee within the week and testify under oath about his alleged comments, or he should resign immediately.

— Mark Meadows (@RepMarkMeadows) September 26, 2018
Meadows in July threatened to try to force a vote on either impeaching Rosenstein or holding him in contempt of Congress. He paused that effort just before the August recess, but said he may still pursue it if the Justice Department doesn't provide thousands of documents Republicans want related to the Russia investigation.
"I think indeed if all of the documents are not complied by July 6, providing we vote on that resolution tomorrow, which I believe we will do, the speaker, as indicated, we will vote on the House floor tomorrow on that resolution," the North Carolina lawmaker told CNN at the time. "If they're not here by July 6, then certainly contempt and impeachment will be in order."
Ryan was asked Wednesday if he supports legislation introduced by Democrats to protect the Mueller investigation and if he thinks Rosenstein should testify. "Well, first, the president obviously should have political appointees that he has faith and confidence in," Ryan said. Noting Thursday's meeting, he said, "I think we shouldn't step in the way of that. We should let the president work it out with Rod Rosenstein."
Asked again if Rosenstein should testify, and if he should be sanctioned if he doesn't, Ryan said he would defer to the Judiciary Committee.
Although House Judiciary Chairman Bob Goodlatte's position on a hearing is unclear, the panel is preparing subpoenas of memos written by former acting FBI Director Andrew McCabe that detail conversations around that time with Rosenstein and others, according to a person familiar with the plans but not authorized to discuss them. Goodlatte has not commented on the memos.
Questions about Rosenstein's future were revived after a New York Times report tha, in May 2017 discussions with FBI and Justice Department officials, he suggested the idea of secretly recording Trump — remarks his defenders insist were merely sarcastic — and of invoking the Constitution to have the Cabinet consider removing Trump from office.
In response to the report, Rosenstein issued the following denial: "I will not further comment on a story based on anonymous sources who are obviously biased against the department and are advancing their own personal agenda. But let me be clear about this: Based on my personal dealings with the president, there is no basis to invoke the 25th Amendment."
The Associated Press contributed to this report. 
http://feedproxy.google.com/~r/breitbart/~3/t7LHv4fyq_c/