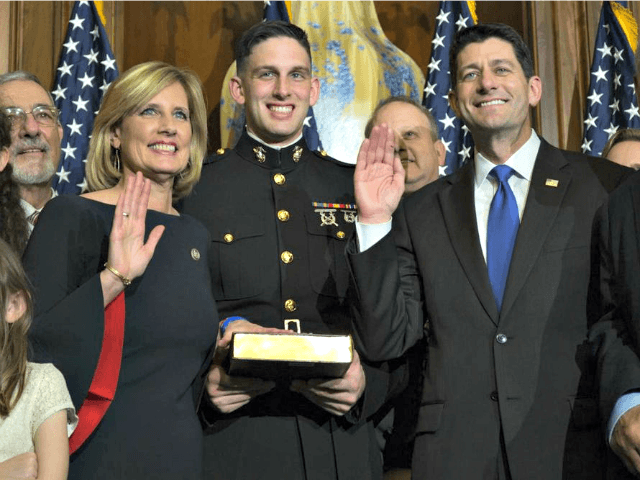 House Speaker Paul Ryan campaigned for Republican incumbent Rep. Claudia Tenney (NY) Tuesday as a poll shows her at 50 percent support to Democrat opponent Anthony Brindisi's 42 percent.
Citizens United released a poll Tuesday showing Tenney at 50 percent support, 40 percent of which said they would definitely be voting for her. Brindisi came in eight points behind at 42 percent with just 29 percent saying they will definitely vote Brindisi. Seven percent said they were still undecided in the race. 
Speaker Ryan visited Binghamton, New York, to stump for Tenney Tuesday night. Local BNG news published remarks from an attendee of the event and someone who came out to protest Ryan's visit. Event attendee Lila Kashou lauded tax reform and Tenney's part in bringing jobs back to her region. The protester, a Binghamton University student, said he just doesn't agree with Tenney's platform. Kashou emphasized the importance of research "because there are a lot of people out there that are just saying things that are not factual and I think [Tenney's] doing a wonderful job."
Tenney came in with a 47 percent favorable rating in name ID and 44 percent unfavorable in the new poll. She scored a 94 percent in name ID compared to Brindisi's 92 percent. Brindisi hit a 49 percent favorability rating with 39 percent unfavorable.
Fifty-five percent of respondents said they voted for Donald Trump for president in 2016. Just 39 percent voted for Democrat Hillary Clinton, and the remaining few percent voted for candidates from minor parties.
Four hundred respondents were questioned in the survey taken from October 12-13. Republicans comprised 40 percent of respondents, while 38 percent were Democrats, 18 percent were independent or undecided, and four percent were unsure. A whopping 96 percent said they were very likely to vote in the midterm election.
Michelle Moons is a White House Correspondent for Breitbart News — follow on Twitter @MichelleDiana and Facebook
http://feedproxy.google.com/~r/breitbart/~3/WgZgBp1y1tA/