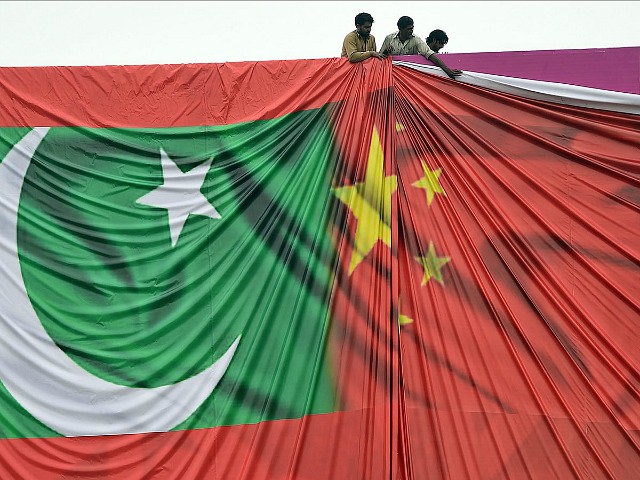 Officials in Pakistan announced on Monday that China's massive Belt and Road railway project will see its $8.2 billion budget slashed by $2 billion as concerns over Pakistan's debts to China mount under new Prime Minister Imran Khan.
The railway project was conceived as a modern upgrade to the antique railroads running between Karachi and Peshawar, financed by loans from China under the umbrella of the China-Pakistan Economic Corridor (CPEC), which is the Pakistani component of China's effort to rebuild the fabled Silk Road trade route from centuries ago.
Khan's administration quickly grew much more nervous about borrowing huge sums from China than his predecessor. Railway Minister Sheikh Rasheed explained on Monday that Pakistan is "a poor country that cannot afford the huge burden of the loans," although he added that his government remains committed to completing the rail project at reduced cost.
"CPEC is like the backbone for Pakistan, but our eyes and ears are open," Rasheed declared.
The United States has been warning prospective Belt and Road partners about China's habit of trapping poor countries with enormous debts they cannot repay and then demanding control of strategic assets to hold Beijing's bill collectors at bay, as China did to Sri Lanka.
Rasheed alluded to fears that the railway project would not generate enough revenue to recover construction costs. The project is already behind schedule and over budget. Rasheed did not specify how costs would be cut in order to keep the troubled project moving after it loses a third of its original budget, or how the greatly reduced project could attract enough commerce to run at a profit. Both the commercial and passenger rail industries in Pakistan have collapsed over the past few years, making huge railroad renovation projects seem like very risky investments.
China tried to sweeten the deal last week by making unilateral trade concessions to Pakistan in order to shore up its economy and dilute fears of a debt trap snapping shut on Islamabad. These measures were evidently not enough to reassure the Khan administration.
The Singapore Straits Times on Sunday saw Pakistan joining Sri Lanka, Malaysia, and the Maldives as countries with new administrations deeply concerned about the debt their predecessors incurred to China. Khan is also chafing at the amount of national wealth tied up in Belt and Road projects and therefore unavailable for the social spending he promised voters.
In Pakistan, the new government wanted to review all Belt and Road contracts. China politely but firmly refused, agreeing to renegotiate only projects that are not under construction yet. This did little to quell anxiety in Islamabad about the nature of the partnership it has undertaken with Beijing.
Furthermore, as analysts pointed out to the Straits Times, even the Chinese clearly do not think the CPEC railroad project will turn a profit because they are willing to loan money for construction but not invest in the railroad themselves. China is happy to loan Pakistan billions at interest, much of which is used to hire Chinese companies for construction work under the contracts Khan wants to renegotiate, and Chinese politicians all the way up to President Xi Jinping will wax poetic about the high priority of Pakistan's railways, but they will not put any chips on the profitability of the business they are so eager to finance.
"If it's such a strategic project then it should be a viable project for them to finance on very concessional terms or invest in," a senior Pakistani official told the Straits Times, hearing an alarm bell that ought to be deafening in Islamabad by now.
For the moment, the official line from Khan and his officials to China is that all of the problems are on Pakistan's side, due mainly to a faltering economy and corruption in the previous administration. China's investment in CPEC has been estimated at $60 billion over the next 15 years. That gives Beijing a great deal of leverage over Khan, no matter how uncomfortable he feels with certain Belt and Road arrangements.
"We are proud of the friendship with our great tested friend China," railway minister Rasheed insisted after he told the Chinese to keep $2 billion of their money.
http://feedproxy.google.com/~r/breitbart/~3/iIA-9AV0wLs/