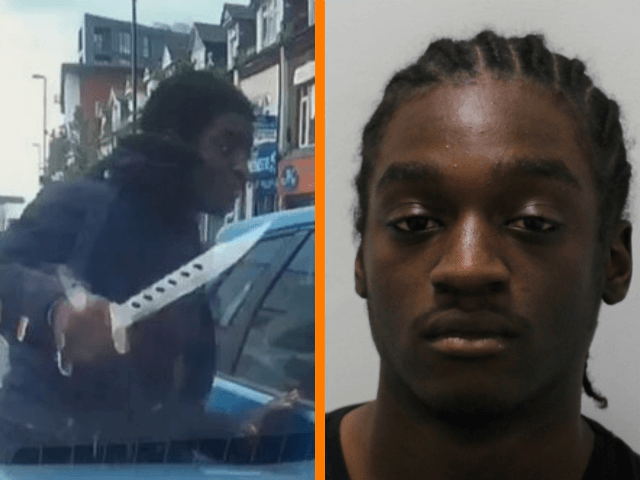 A man filmed attacking a car with a large 'zombie knife' on a London street has been spared jail, sparking outrage and leading to the case being referred to the Attorney General.
Terrifying footage filmed on May 30th of Joshua Gardner, then 17, smashing up a car using the sword-like weapon in broad daylight on a busy street in Croydon, south London, spread on social media and shocked the nation.
He was only caught after an "eagle-eyed police officer" recognised him due to a previous conviction for attempted robbery after the footage circulated in the media, police said in a statement.
Gardner, now 18, was convicted of three charges but let off with a two-year suspended sentence at the Old Bailey on Tuesday.
The non-custodial sentence came after a judge heard claims he was carrying the knife following a ten-day kidnap ordeal in which he was held at gunpoint.
This is outrageous. https://t.co/mzDVwMdwOi

— Nigel Farage (@Nigel_Farage) November 27, 2018
The judge also said that part of the reason he was not given a prison sentence was that of his difficult upbringing, including a period of his youth when one of his brothers was jailed.
Mark Stevens, defending, claimed Gardner carried the zombie knife as he was scared of being attacked, according to the SWNS news agency.
He said: "He is thoroughly ashamed not for himself, but for the pain he has put his family through."
Judge Anuja Dhir QC said: "There was an incident of kidnapping between about March 26 and April 2, so a relatively short period of time before you committed this offence.
"You were bundled into a car, and threatened with a gun because of a drug debt that a friend of yours had run up.
This is some scary footage. A man wields a huge knife on London Road, Croydon at around 5pm yesterday. Victim seen running for his life. Happy to say no one injured. No arrests made. Call police on 101 if you recognise the man pic.twitter.com/2nP8MRvzkM

— Sam Truelove (@samtruelove1) May 31, 2018
"You were then taken to a place referred to as a trap house for ten days and you were made to sell drugs to work off the debt."
The kidnapping, said to be by a gang of men in their 20s, "reduced your culpability," she told Gardner.
Despite these claims, the lenient sentence sparked outrage, with former UKIP leader Nigel Farage branding it "outrageous."
The Attorney General's Office confirmed in a statement on Wednesday afternoon it had since received a referral for an "unduly lenient" sentence relating to Joshua Gardner.
WATCH: London Thug Uses Huge Knife to Attack Driver on Busy Street https://t.co/R6fMKfop4w

— Breitbart London (@BreitbartLondon) June 1, 2018
http://feedproxy.google.com/~r/breitbart/~3/Ss_9XSKr8zA/