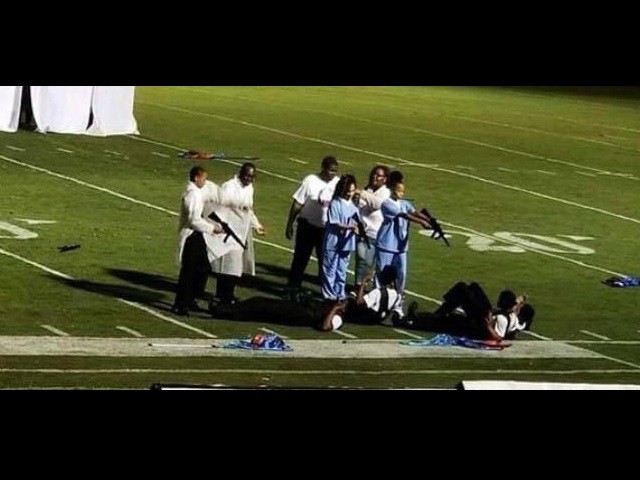 Forest Hills High School is facing outrage and backlash after their band did a half-time performance Friday night in which they depicted police officers being shot.
Forest Hills High School's band performed the skit against Brookhaven High School. Two officers in Brookhaven, Mississippi, were shot and killed in gunfight less than a week prior to the halftime routine.
WLBT reports that the halftime performance featured students with toy guns depicted as shooting SWAT officers.
KDVR reports that  Jackson Public Schools Superintendent Errick L. Greene responded to the public backlash against the performance by indicating it was as loose enactment of the movie "John Q." Greene nevertheless apologized, called the skit "insensitive," and released a statement:
JPS has a great deal of respect and appreciation for our law enforcement partners. The band's performance does not depict the values and people in our community, and was incredibly insensitive to the students, families, law enforcement officials and the entire Brookhaven community. For this we sincerely apologize to all, and we pledge to do better in the future.
Brookhaven Mayor Joe Cox posted a statement to Facebook, which said in part:
The halftime performance conducted by the Forest Hill Band at our Brookhaven High School home football game last night was inappropriate, irresponsible, and insensitive to say the least. It was a horrific display of disrespect demonstrated toward our local law enforcement, our students and families in attendance of the game, and all citizens of Brookhaven. It is disturbing that the Forest Hill routine has been performed previously with no repercussions to faculty members or administrators, especially given the fact weapons were involved. Even though the weapons were obviously toy guns, it is still a serious violation of school policy. This type of performance is inexcusable under any and all circumstances, especially within the school system, but also in light of our fallen heroes on September 29th who served the Brookhaven Police Department with great honor, Officer Zach Moak and Officer James White.
Gov. Phil Bryant (R) made clear there was no room for such performances "in a civilized society":
This is unacceptable in a civilized society. Someone should be held accountable. https://t.co/hq3hJnj4xA

— Phil Bryant (@PhilBryantMS) October 6, 2018
AWR Hawkins is an award-winning Second Amendment columnist for Breitbart News, the host of the Breitbart podcast Bullets with AWR Hawkins, and the writer/curator of Down Range with AWR Hawkins, a weekly newsletter focused on all things Second Amendment, also for Breitbart News. He is the political analyst for Armed American Radio. Follow him on Twitter: @AWRHawkins. Reach him directly at awrhawkins@breitbart.com. Sign up to get Down Range at breitbart.com/downrange.
http://feedproxy.google.com/~r/breitbart/~3/78bs4JNxlgk/