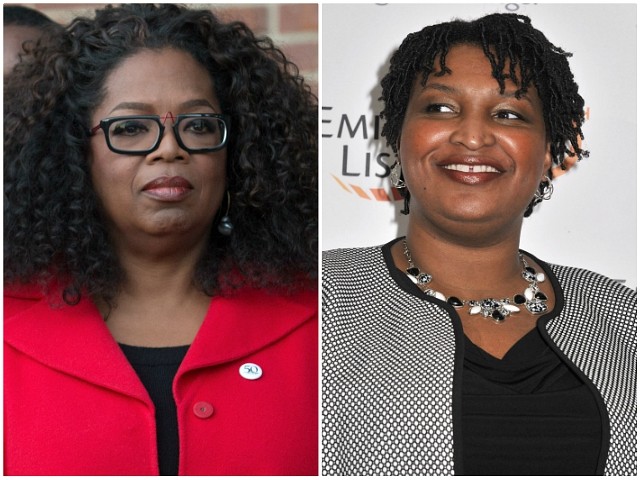 Entertainment mogul Oprah Winfrey will travel to Georgia this week to campaign on behalf of the state's Democratic gubernatorial candidate Stacey Abrams, according to reports.
BuzzFeed News says Winfrey will hold two town hall events with Abrams in DeKalb County and Cobb County on November 1, and then go door to door to pushing residents to vote early in the Peach State.
"I am honored to have Oprah join me for uplifting and honest conversations with voters about the clear choice before us in this election and the boundless potential of Georgians," Abrams told BuzzFeed News.
Winfrey has increased her public political stances since delivering a politically charged speech in January at the 75th annual Golden Globes. In February, she joined Steven Spielberg, Jeffrey Katzenberg, and George and Amal Clooney in pledging $500,000 to the student gun control "March for Our Lives."
Oprah Winfey isn't the only major figure to boost Abrams, who is locked in a tight race against her Republican rival George Secretary of State Brian Kemp. One day after Winfrey's appearances, former President Barack Obama will lead a get-out-the-vote event for Abrams at Forbes Arena at Morehouse College. Last week, Actor and former Saturday Night Live cast member Will Ferrell canvased for Abrams at Kennesaw State University to recruit volunteers for the Democrat's campaign.
A Fox 5-Atlanta poll published Tuesday shows the Democratic gubernatorial candidate in a statistical tie with Kemp, while the Cook Political Report is characterizing the race as a "toss-up."
President Trump is slated to visit Macon on Sunday to campaign for Kemp, while Vice President Pence will rally alongside the Republican gubernatorial candidate at three events this Thursday.
http://feedproxy.google.com/~r/breitbart/~3/kUwSfR7AIcM/