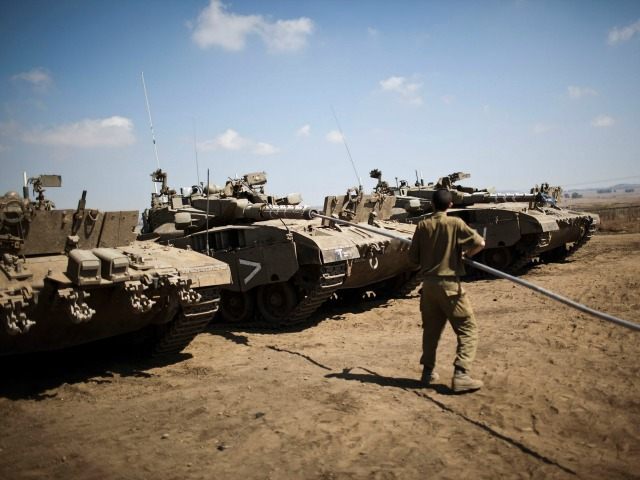 TEL AVIV – Israel has mobilized artillery and unrolled a partial mobilization of reservists from the Air Force and Military Intelligence to thwart potential attacks from Lebanese terror group Hezbollah following the launch of an IDF operation to destroy cross-border attack tunnels dug by the Iranian-backed group.
Prime Minister Benjamin Netanyahu, who also serves as defense minister, held a meeting with security chiefs and senior defense officials Tuesday afternoon at IDF headquarters in Tel Aviv to discuss the operation, which has been dubbed Northern Shield.
IDF Spokesperson Brigadier General Ronen Manlis said the military was gearing itself up for an "extended operation."
"We are prepared for all options, and the operation is only in its first day. The neutralizing of the tunnels will not necessarily take place within our territory," he said.
The IDF said earlier that it had uncovered the "first of sure to be many" subterranean attack tunnels.
BREAKING: We have just launched Operation Northern Shield to expose and neutralize cross-border attack tunnels dug by Hezbollah from #Lebanon to #Israel. #NorthernShield pic.twitter.com/HKgnbhn23I

— Israel Defense Forces (@IDF) December 4, 2018
The 200-meter tunnel, which originated in a private home in Qafr Kila in southern Lebanon and penetrated some 40 meters into Israel's north near the town of Metulla, did not present an immediate threat, the army said.
The UN peacekeeping force in southern Lebanon, UNIFIL, was deployed today on both sides of the border to monitor developments and prevent escalation.
The IDF dismissed claims by both Israelis and Hezbollah that Netanyahu chose to launch Operation Northern Shield now because of calls by police to indict him.
"There's no cynicism here," Manelis said.
Speaking to Lebanon's An-Nahar newspaper, an unnamed Hezbollah official compared Netanyahu to the fictional Don Quixote, who attacked imaginary enemies.
"He is in crisis mode. He is tilting at windmills in Lebanon in an attempt to evade it," the Hezbollah official said.
However, IDF spokesperson Lt. Col. Jonathan Conricus said the operation was planned over a year ago and the launch date was decided upon weeks before the police recommendations were published.
The attack tunnel took Hezbollah more than two years to excavate and contained electrical and communication lines as well as ventilation, the army said, adding that it was "intended to hurt civilians."
"Hezbollah has been using industrial equipment in order to dig these tunnels. We are beginning to assess and analyze the findings," Conricus said.
On Monday, Netanyahu told Secretary of State Mike Pompeo during a last-minute meeting in Brussels that Israel would take military action if Beirut did not reign in Hezbollah.
The prime minister told Pompeo that the tunnels were "a flagrant violation of Israeli sovereignty and UN Security Council Resolution 1701," according to a statement provided by his office.
Netanyahu added that the operation on the northern border was "complex," but that it had so far been successful.
"We are taking determined and responsible action in all sectors simultaneously. We will continue with additional actions — open and covert — in order to ensure the security of Israel," the prime minister said.
http://feedproxy.google.com/~r/breitbart/~3/Uxso6DwO5C4/