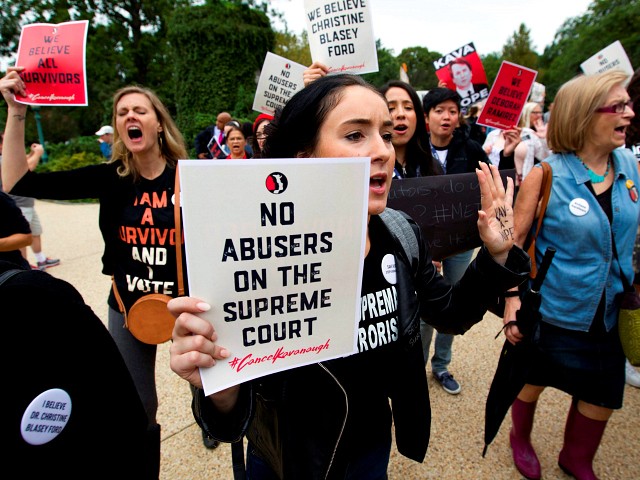 The ongoing and increasingly angry protests opposing President Donald Trump's Supreme Court nominee Brett Kavanaugh after Christine Blasey Ford accused the federal judge of sexual misconduct at a high school party in the early 1980s has caused heightened security at the U.S. Capitol and Senate and House office buildings.
Roll Call reported on the Kavanaugh protests:
Close-up exchanges between protesters and senators, including in elevators and at airports, have led to additional security measures, especially for Senate Judiciary Committee members.

On Tuesday, Judiciary Republicans John Kennedy of Louisiana and Lindsey Graham of South Carolina were protected by uniformed Capitol Police. Graham was also accompanied by Deputy Sergeant-at-Arms James Morhard, one of the top law enforcement officials on Capitol Hill. Last week, teams of uniformed officers were moving alongside Jeff Flake of Arizona and Judiciary Chairman Charles E. Grassley of Iowa.

Capitol Police officers said the large media presence was causing a "life safety issue" to lawmakers, despite the hallway being closed to anyone besides lawmakers, staff and credentialed press.
The rhetorical temperature on Capitol Hill is super high this week. Lots of protestors. Several senators being escorted around by Capitol Police. It's… tense.

— Garrett Haake (@GarrettHaake) October 3, 2018
The latest protests come after the Senate Judiciary Committee decided to ask the FBI to do a supplemental background investigation into Kavanaugh and others involved in claims against the federal judge for one week following Ford's testimony and Kavanaugh's response to her testimony.
Capitol Police guarding the hallway to Senator Collins' office pic.twitter.com/xOLpY2DBxf

— Kristin Fisher (@KristinFisher) October 3, 2018
Senate Majority Leader Mitch McConnell (R-KY) said the FBI will be ending its probe shortly and that the full Senate will vote on Kavanaugh's confirmation this week.
Follow Penny Starr on Twitter.
http://feedproxy.google.com/~r/breitbart/~3/3uV1xbE2N6I/