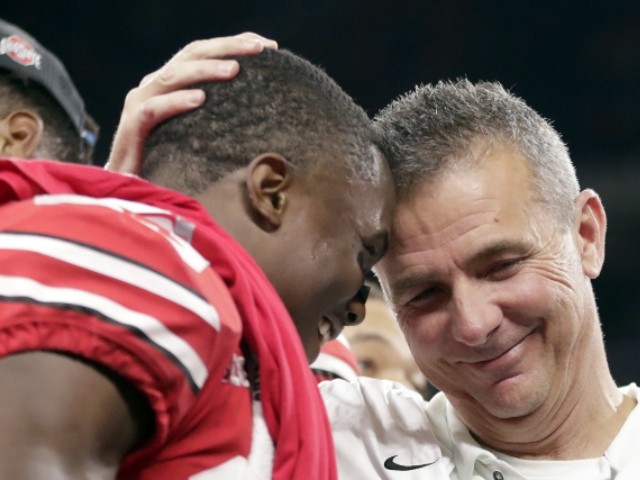 INDIANAPOLIS (AP) — Dwayne Haskins and Urban Meyer reveled in the victory celebration Saturday night.
Now the College Football Playoff selection committee gets to decide whether the Big Ten champions will continue dancing through the next six weeks.
Shortly after Haskins made his case to win the Heisman Trophy by throwing five more touchdown passes, the Buckeyes defense fended off a second half charge from No. 21 Northwestern and Meyer put his hands on a third conference championship trophy in five years as the conversation quickly turned to the more immediate fate of No. 6 Ohio State.
"This means representing the Big Ten Conference, arguably the best conference in college football, and the East Division, arguably the best division in college football," Meyer said as the lobbying began after a 45-24 victory. "I think all you have to do is look is at the body of work. We went on the road and won some tough games — TCU, Penn State and Michigan State. The way we played against our rival (Michigan) and the way we played tonight, I think we deserve a shot."
Three spots in the playoff appear to be locked up after No. 1 Alabama beat No. 4 Georgia in the SEC title game and Clemson claimed another ACC crown by routing Pittsburgh. Alabama, Clemson and Notre Dame are all unbeaten and are expected to claim the top three spots.
With No. 5 Oklahoma beating No. 9 Texas in the Big 12 title game, conventional wisdom suggests the Buckeyes (12-1, 9-1, No. 6 CFP) may come up short in their playoff quest.
One argument in favor of Ohio State: It is playing well.
The Buckeyes have won five straight overall, piling up 107 points in the last two games — against two stingy defenses.
Haskins was lights out again Saturday, finishing 34 of 41 with 499 yards and one interception and was an easy choice as the game's MVP.
"We got a win, that's all that matters," Haskins said. "I could have thrown for 80 yards or 600 yards. All we needed to do was win the game."
The Buckeyes started fast — scoring just 10 plays into the game when scrambled to avoid a sack and bought just enough time to hook up with Terry McLaurin for a 16-yard TD pass .
And after allowing John Moten IV to tie the score with a 77-yard TD run midway through the first quarter, Ohio State closed out the half with a flurry. J.K. Dobbins scored on a 2-yard run, Blake Haubeil made a 42-yard field goal and McLaurin caught a 42-yard TD pass from Haskins to give the Buckeyes a seemingly safe 24-7 halftime lead.
The Wildcats answered quickly in the second half.
Clayton Thorson scored on an 18-yard run to make it 24-14 and his 2-yard TD pass to Cameron Green made it 24-21 with 8:03 left in the third quarter. Thorson went 27 of 44 with 267 yards, one TD and two interceptions for the Wildcats (8-5, 8-2, No. 21).
"I talked to them (at halftime) and said 'Hey, we've been here before. Let's get a great first drive, let's go score and get momentum,'" Northwestern coach Pat Fitzgerald said. "To our guys' credit, we were obviously able to get that done. We just couldn't get over the hump, though."
Instead, Haskins found Chris Olave for a 29-yard TD pass and sealed the win with two more touchdown passes in the final 10 minutes — a 9-yarder to Johnnie Dixon and a 17-yarder to Dobbins.
The ensuing celebrations included Haskins striking the Heisman pose , Meyer hugging those around him and Buckeyes players waving championship memorabilia as they await the committee's final decision.
"There are a lot of great football teams out there and we're one of those great football teams," said Meyer, who has fended off questions about his future following a difficult offseason and a three-game suspension for his handling of domestic violence allegations against a now-fired assistant. "I don't know if we're in position to start making statements about where we belong, but they have a tough decision to make."
THE TAKEAWAY
Northwestern: The ascending Wildcats showed some true grit after an abysmal start, which could have buried them. Now they must find a way to clear the next hurdle and win a conference crown.
Ohio State: The Buckeyes played like one of the nation's top teams during a dominant first half and during closeout mode. But in between, they struggled to put away the Wildcats.
STAT PACK
Northwestern: Moten had four carries for 76 yards and Isaiah Bowser wound up with 13 carries for 60 yards. … Thorson made his 52nd career start, a Big Ten record. … Fred Wyatt blocked an Ohio State field goal.
Ohio State: Dixon had seven catches for 129 yards, Parris Campbell had seven catches for 89 yards, Olave finished with five for 79 and McLaurin had three receptions for 78 yards. … Dobbins ran 17 times for 68 yards and became the first player in school history to record 1,000-yard rushing seasons as both a freshman and sophomore.
UP NEXT
Northwestern: The Big Ten runner-ups will wait to find out who and where they play.
Ohio State: The Buckeyes are hoping the conventional wisdom about the playoff spots is wrong even though their more likely destination may be the Rose Bowl.
http://feedproxy.google.com/~r/breitbart/~3/ZU4qsO1Eztg/