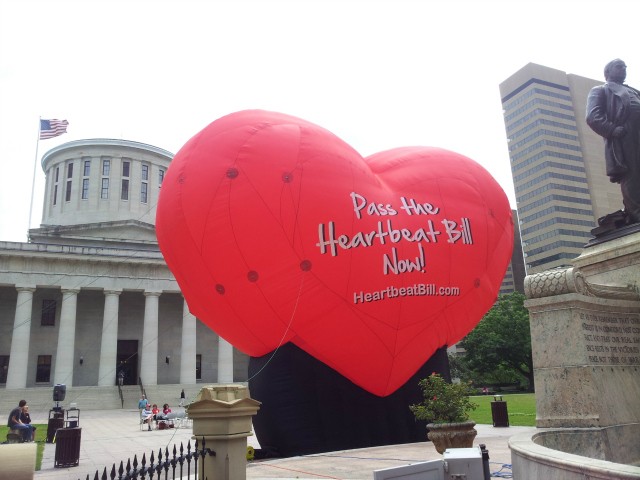 Ohio lawmakers have once again passed a measure that bans abortion once a fetal heartbeat can be detected – approximately the sixth or seventh week of pregnancy.
Thursday's vote in the state House that approved the heartbeat bill echoed that of the last legislative session when it passed as well. In December 2016, both the Ohio House and Senate approved the measure, but Republican Gov. John Kasich vetoed it. According to the Columbus Dispatch, GOP Governor-elect Mike DeWine said he will sign it into law.
"It gives a more consistent and reliable marker for the courts to use to determine the validity of a human baby," said Republican state Rep. Christina Hagan, a sponsor of the bill. "We know that when a heartbeat stops, we've lost a human life."
The state House voted 59-35 to approve the legislation and send it to the Senate.
"The point is, it's time," Hagan said. "It doesn't matter if the governor is with us or against us," she added regarding Kasich.
According to the Dispatch, Democrat Rep. Nickie Antonio attempted to push an amendment to make exceptions for rape or incest, but a Republican procedural move blocked her effort.
"It's often the case that a woman doesn't even know she's pregnant until after six weeks," Antonio said. "This is especially true for women who are emotionally traumatized by rape."
Similarly, Democrat Rep. Kristin Boggs said the bill was too extreme in that it did not allow a woman's mental health to qualify as an exception.
"Motherhood should never be forced upon anyone," she said.
But GOP Rep. Ron Hood explained his own experience of how his pregnant wife was told during a routine medical appointment that their unborn baby no longer had a heartbeat and that they would have to terminate the pregnancy.
"How could someone actually do this on purpose?" he asked.
http://feedproxy.google.com/~r/breitbart/~3/ob4XlNLTH3Q/