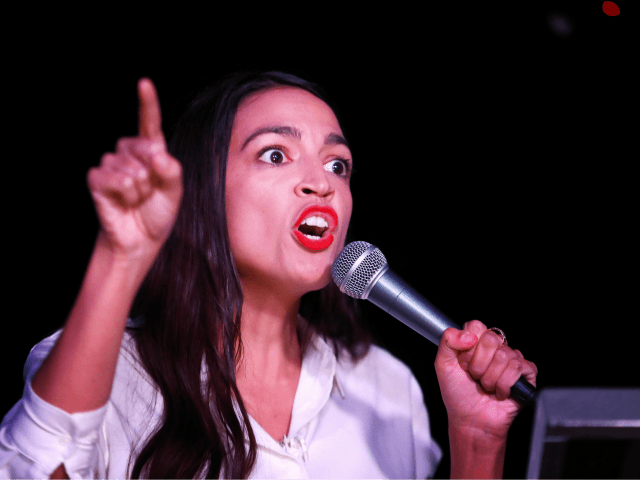 Representative-elect Alexandria Ocasio-Cortez (D-NY) said on Monday evening that the group of Democrats seeking to block House Minority Leader Nancy Pelosi (D-CA) from regaining her Speakership is too conservative and not diverse enough.
Sixteen Democrats signed a letter that anti-Pelosi Democrats released on Monday in which they just "committed" to not vote for Pelosi on the House floor.
But on MSNBC's All In on Monday evening, Ocasio-Cortez said she is "not totally bought into the concept" of blocking Pelosi just for the sake of denying her the Speakership.
She said her main concern with the letter was that "that there is no vision, there's no common value, there is no goal that is really articulated in this letter aside from we need to change."
Ocasio-Cortez, who is backing a movement by the left-wing Justice Democrats to primary "Democratic incumbents who are demographically and ideologically out-of-touch with their districts," told host Chris Hayes that 14 of the 16 signatories are male and there were "very few people of color." She also said the group was not a "broad-based coalition" and had "very few ideological diversity."
As Ocasio-Cortez referenced, only two females and two Representatives of color signed the letter. Rep. Marcia Fudge (D-OH), who is reportedly considering challenging Pelosi, noticeably did not sign the letter. Neither did anybody else from the influential Congressional Black Caucus.
Ocasio-Cortez said she and her fellow progressive Democrats were sent to Washington with a "mandate to change how government works" and "what government even looks like," but the anti-Pelosi coalition "is not necessarily reflective of the diversity of the party."
She also said blocking Pelosi actually "creates a window where we could potentially get more conservative leadership."
Ocasio-Cortez made a similar point on Sunday evening, stating that Pelosi is the most progressive candidate for Speaker at the moment.
"Right now, out of the field, I would say that she is the most progressive candidate," Ocasio-Cortez reportedly said during her Instagram Live broadcast. "All of the rebellion for the speakership are challenges to her right, and so I think it's important to communicate that."
Ocasio-Cortez added that if left-wing Democrats just say "no" to Pelosi "just for the sake of that," then that puts progressive Democrats "in a position where we end up with more conservative leadership."
"My standard in this is: I'm going to support the most progressive candidate that's leading the party and right now that is Nancy Pelosi, in terms of running," Ocasio-Cortez continued. "I would like to see new, younger leadership, but I don't want new leadership that's more conservative."
Reps. Seth Moulton (D-MA) and Tim Ryan (D-OH), two of the most prominent faces of the anti-Pelosi movement, are to the right of Pelosi. Fudge, the potential challenger, is also to Pelosi's right, especially on LGBT issues. Pelosi's allies have made a concerted effort to point out  that Fudge has opposed the Equality Act, which would extend formal civil rights protections to "sexual orientation and gender identity."
http://feedproxy.google.com/~r/breitbart/~3/cVSrlhRSS4s/