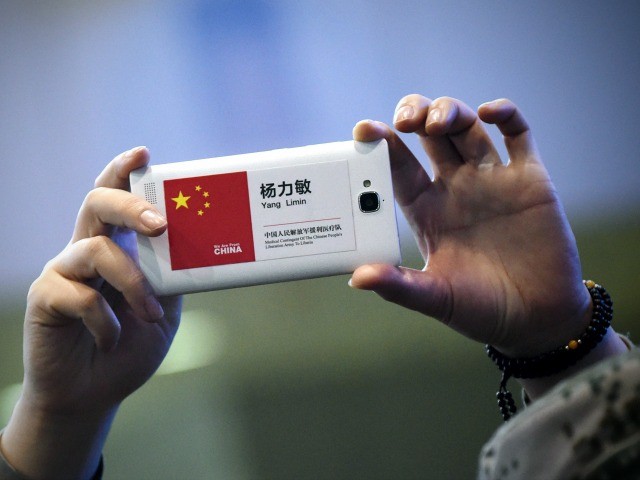 Chinese telecom company Transsion has not sold a single phone in China, but it beat out heavyweight competitors like Samsung and Apple to quietly dominate the African smartphone market, a CNN report revealed Wednesday.
Its success was an unusual corporate strategy designed from the ground up to seize African market share at the same time Chinese political influence spreads across the continent.
As CNN reported in a profile of Transsion and its flagship Tecno brand on Wednesday, the phones sold in Africa are actually optimized for snapping photos of people with dark complexions. They also allow users to easily switch between different cell phone networks depending on which one is cheaper in different regions – a capability that would seem odd to American and European customers but is so desirable in Africa that users are accustomed to carrying multiple SIM cards in their pockets.
Longer battery life is also crucial for African customers because charging stations can be hard to come by and rolling blackouts are common. Tecno phones have two or three times the battery life of common brands in other markets, and they are incredibly cheap, with even top-end models selling for the equivalent of $200 U.S.
Costs are kept down by employing inexpensive local labor, which also pleases Africans because it brings jobs to their countries. A growing African workforce is helping the Chinese company branch out into other tech products like LCD TVs.
Company founder George Zhu took advantage of a Chinese government initiative called "Going Out" that incentivized companies to aggressively pursue developing markets. The Chinese firm realized big global players like Apple simply weren't interested in designing specialized phone products to chase the budget African market. Now that Transsion is dug in, it is hard to imagine big American, Japanese, or Korean manufacturers making the investment necessary to lure African customers away, and with a huge share of the hardware market nailed down, Transsion and partner companies from China are developing accessories, applications, and services.
A Quartz report in August on Transsion noted China is reaping some side benefits from its rapid expansion through the African market: "Bent on becoming the world leader in artificial intelligence, Chinese firms like Guangzhou-based startup CloudWalk want to improve their facial recognition software by collecting data from Africans."
Quartz attributed some of Transsion's success to China's growing political clout with African nations, which helps the Chinese resolve problems with "local policy, customs, and taxation systems" that vex other foreign enterprises.
Bloomberg Businessweek in March saw Transsion profiting from Beijing's "checkbook diplomacy" in Africa but also suffering the odd setback, such as a bout of martial law in Ethiopia earlier this year. Some observers believe Chinese companies will be harmed by their association with repressive regimes and their pursuit of upper-class dollars in countries with deeply impoverished populations.
http://feedproxy.google.com/~r/breitbart/~3/FtGvOXv-OtQ/