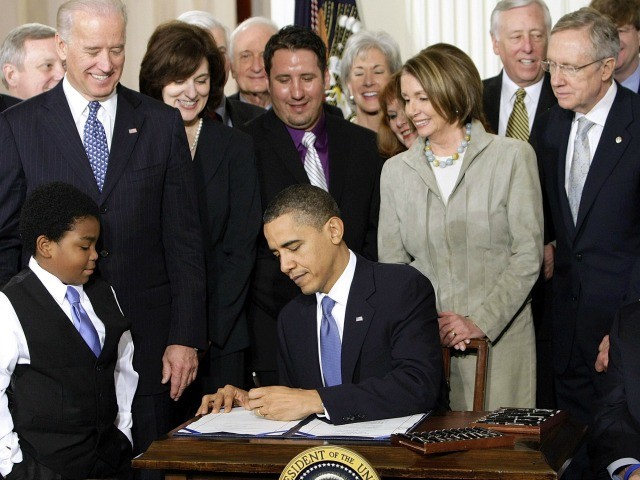 Former President Barack Obama praised House Minority Leader Nancy Pelosi (D-CA) on Tuesday as an "extraordinary partner" who will be remembered as "one of the most effective legislative leaders that this country's ever seen."
During a live taping of David Axelrod's "The Axe Files" podcast at the University of Chicago, Obama praised Pelosi's three-yards-and-a-cloud-of-dust approach to politics and legislating, saying Pelosi cares less about "performance art" and more about the "nuts and bolts" and "the blocking and tackling involved in actually getting things across the finish line."
"I think Nancy Pelosi, when the history is written, will go down as one of the most effective legislative leaders that this country's ever seen," Obama added.
Pelosi helped Obama ram through Obamacare with her legislative savvy, and Obama made his remarks as Pelosi is trying to regain her Speakership while fending off the anti-Pelosi faction within her own party.
Obama, though he said he did not want to "wade into" House politics, said that in his experience, Pelosi knows how to pass legislation even though she may not give the fanciest speeches or make the hippest YouTube videos.
"Nancy is not always the best on a cable show or with a quick soundbite or what have you," Obama said. "But her skill, tenacity, toughness, vision, is remarkable. Her stamina, her ability to see around corners, her ability to stand her ground and do hard things and to suffer unpopularity to get the right thing done, I think, stands up against any person that I've observed or worked directly with in Washington during my lifetime."
http://feedproxy.google.com/~r/breitbart/~3/1YevszY0DeQ/