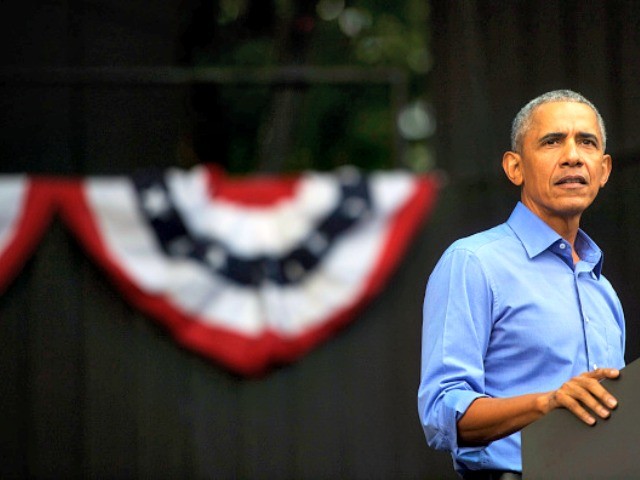 Former President Barack Obama spoke in Las Vegas on Monday in support of Democrat candidates. He told attendees that the midterm elections are more important than when he was on the ballot.
"Look, this November's elections are more important than any I can remember in my lifetime, and that includes when I was on the ballot," Obama said. "That's saying something. Politicians say every time, 'This is the most important election.'"
"This one is really that important," Obama said.
Politico reported that Obama also said it would be "profoundly dangerous" to not vote on November 6 and it would be a "bad bet" to keep Republicans in power in the Senate and the House.
"The consequences of anybody here, not turning out and doing everything you can to get your friends, neighbors, family to turn out, the consequences of you staying home would be profoundly dangerous to this country, to our democracy," Obama said.
Politico reported:
The former president is the latest in a string of high-profile surrogates to stump for Nevada Democrats, especially Rep. Jacky Rosen, who is running to unseat Sen. Dean Heller (R-NV). Former Vice President Joe Biden campaigned for Rosen and other Democrats on Saturday during a rally with union members in Las Vegas.
Trump also campaigned in Nevada for Heller, who is currently leading Rosen slightly in the race.
"Obama has now held rallies in Ohio, Pennsylvania, Illinois, and California as well as Nevada," Politico reported.
Obama also took credit for the prosperous American economy that has taken hold thanks to Trump's policies.
"When you hear all this talk about economic miracles right now, remember who started it," Obama said.
The American Mirror also reported on Obama's speech with an article entitled: 'I GOT A LOT TO SAY': Obama refers to himself 92 times during 38-minute NV speech.
Follow Penny Starr on Twitter
http://feedproxy.google.com/~r/breitbart/~3/6dUTHJ08tNI/