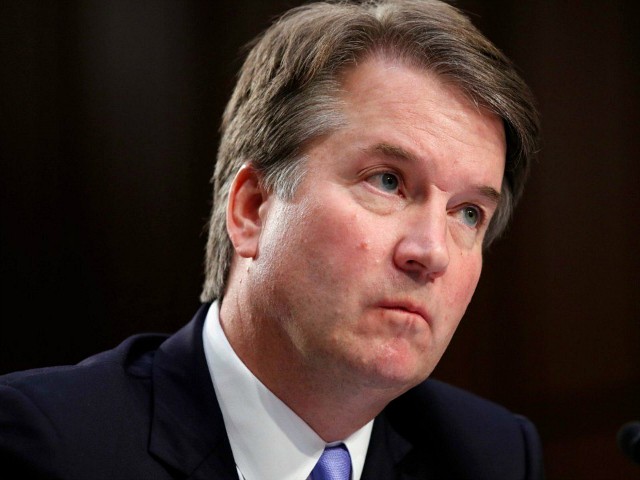 The New York Times unveiled a new allegation against Supreme Court nominee Judge Brett Kavanaugh on Monday: he was questioned by police about throwing ice in a bar altercation during his junior year of college.
The Times was alerted about a 1985 scuffle at a bar near Yale University following a UB40 concert by Chad Ludington, Kavanaugh's one-time Yale drinking companion who came forward Saturday to claim Kavanaugh was not being completely truthful about the extent of his college-aged drinking during his Senate testimony.
In following up, the New York Times obtained a New Haven, Connecticut, police report about the fight from 1:20 a.m. that September. Kavanaugh was not, according to the report, arrested, and no charges stemmed from the altercation. He was, however, questioned after a 21-year-old bar patron named Dom Cozzolino claimed Kavanaugh threw ice at him "for some unknown reason."
According to Ludington, the incident broke out because Cozzolino started swearing at him, Kavanaugh, and a third Yale student, Chris Dudley, because he thought they were staring. Ludington claims they were trying to figure out in Cozzolino was Ali Campbell, the lead singer of UB40.
The Times writes that the police report notes Cozzolino had a cut on his ear, which he claimed resulted when Dudley hit him with a glass. Dudley disputed this in the report.
According to Ludington, Dudley hit him after Cozzolino swung at and then grabbed Kavanaugh in response to the incident with the ice. "I then tried to pull Chris back, and a bunch of other guys tried to pull the other guy back," Ludington told the Times. I don't know what Brett was doing in the melee, but there was blood, there was glass, there was beer and there was some shouting, and the police showed up."
Dudley, who later became an NBA basketball player and came within one-and-a-half points of winning the Oregon governor's race as a Republican in 2010, has strongly backed Kavanaugh, disputing insinuations that the nominee's youthful drinking was problematic. Dudley told the Washington Post that Kavanaugh partied "just like any college kid in America" and told BuzzFeed, "I never, ever saw him blacked out, never. … Brett would drink, but he'd also be the guy who never missed a class. There's a reason he was top of his class."
Ludington described Kavanaugh as "a frequent drinker, and a heavy drinker" who was "often belligerent and aggressive." He admits that he, too, lived a partying lifestyle in college. "I do not believe that the heavy drinking or even loutish behavior of an 18- or even 21-year-old should condemn a person for the rest of his life. I would be a hypocrite to think so," he said in his first public statement about the matter.
Ludington is now a North Carolina State University history professor. The Times initially reported him as a Democrat donor but removed that information, evidently when it became clear the donations came from his father, who has a similar name. A significant portion of his scholarship deals with the history of wine and drinking. Past papers include "The Politics of Drunkenness in Britain, 1780-1820" and "By God, he drinks like a man!: Wine, Masculinity and Britishness."
One of the co-authors of the New York Times story revealing the ice-throwing allegation also features in the wider debate about Kavanaugh. Emily Bazelon, like Kavanaugh, is a Yale undergrad and law school alum, having started at the prestigious university as Kavanaugh was in law school there. She apparently included her own knowledge of the 1980s Yale bar scene in the story, describing the site of Kavanaugh's alleged ice slinging as "a well-known local bar that served big slices of pizza, and cheap beer, especially after 9 p.m."
She has been vocal in her opposition to Judge Kavanaugh, expressing her displeasure when professors at Yale Law, where she is a part-time lecturer, praised Kavanaugh's accomplishments and intellect just after his nomination:
As a @YaleLawSch grad & lecturer, I strongly disassociate myself from tonight's praise of Brett Kavanaugh. With respect, he's a 5th vote for a hard-right turn on voting rights and so much more that will harm the democratic process & prevent a more equal society. 1/2

— Emily Bazelon (@emilybazelon) July 10, 2018
After the Times published her piece, the Yale Law graduate, Bazelon, claimed, without citing her source, Ludington, that she was "told" Kavanaugh might, in fact, have been arrested, only to have it expunged later:
No report of an arrest. Could have been expunged, I'm told. https://t.co/W3J4wr2Sp7

— Emily Bazelon (@emilybazelon) October 1, 2018
President Donald Trump continued to beat back the attacks against his nominee under combative questioning from CNN's Kaitlan Collins at his announcement about North American trade Monday morning. "I watched a man saying that he did have difficulty as a young man with drinking," Trump said of Kavanaugh's hearing testimony. "How 'bout the last twenty years? Because nobody said anything bad about him in the last twenty years. They go back to high school. "
The president continued his support for Kavanaugh at his Monday Tennessee rally for GOP Senate nominee Rep. Marsha Blackburn. "They've been trying to destroy him since the very first second he was announced because they know Judge Kavanaugh will follow the Constitution as written," Trump said at the Johnson City, Tennessee, rally. "He's a good man, great student, great intellect, never had a problem. All of a sudden, 'Oh, let's go back to high school'; then maybe you should go before high school."
http://feedproxy.google.com/~r/breitbart/~3/pWW9Tk1AqNM/