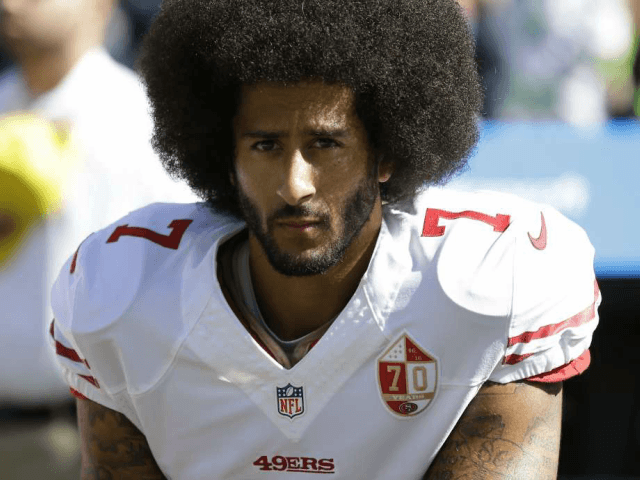 A New York police sergeant is claiming that his support for former NFL quarterback and original anthem protester Colin Kaepernick, has kept him from getting promoted.
Sergeant Edwin Raymond of the New York City Police Police Department, claims that he was sees as "standing with the enemy," by many of his fellow officers. After he participated in a press conference aimed at highlighting issues with police violence, the same issues that Kaepernick claimed to be targeting with his protests.
"It is unfortunate. I did a press conference in support of Colin Kaepernick, using his status to put a spotlight on issues in policing that need to be fixed," Raymond told the New York Daily News. "Because of the controversy a lot of cops criticized him. Me being aligned with him was seen as standing with the enemy."
However, in the interview with the Daily News, Raymond also acknowledged that complaints from his fellow officers regarding how he has handled domestic violence cases, also played a part in preventing his promotion.
There have been several domestic violence related complaints about Raymond, a senior NYPD official told the Daily News.
According to the Daily News via the Hill:
One of the allegations against him dates to an incident from September 2017. A woman allegedly called the police after seeing an ex-boyfriend.

Upon arriving, the police officers reportedly saw an order of protection, but Raymond let the man go.

Raymond disputed the story, saying that a woman took a bat to her ex-boyfriend's car while he was in it with another woman. Raymond said that the man called the police and that, based on the circumstances, there was no reason to arrest him.

He told the newspaper that officers went to internal affairs after the incident.

'These cops went thinking the numbers would give their claims more plausibility, and unfortunately the department is choosing to entertain this and use it as a dagger to end my promotion,' Raymond said.
Raymond went on to say, "They are not happy with me. I don't enjoy having to speak out, but it's historically what makes the department budge."
Colin Kaepernick has not played in the NFL since the end of the 2016 season. The same year in which he launched his anthem protests. Since that time hundreds of other players have taken part in some form of protests during the playing of the Star-Spangled Banner.
Kaepernick has launched a grievance claim against the NFL, claiming that the league's owners colluded to keep him out of the league due to his anthem protests.
Follow Dylan Gwinn on Twitter @themightygwinn
http://feedproxy.google.com/~r/breitbart/~3/x8M8-9HZ5S4/