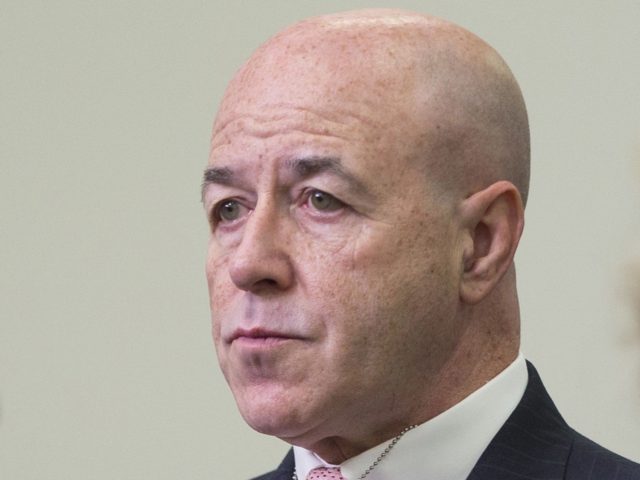 Former New York City Police Commissioner Bernard Kerik criticized CNN's coverage of the mail bombs sent to Democrat Party figures this week, in an interview with SiriusXM's Breitbart News Tonight.
Kerik, who led the New York Police Department during the 9/11 terror attacks, was so disgusted with CNN's politicized coverage of the mail bombings, he walked out before a scheduled interview with them on Wednesday evening.
LISTEN:
In a Friday interview with SiriusXM host Rebecca Mansour, Kerik commented on CNN anchor Dana Bash's comments that Trump is responsible for "stoking" the chants of "CNN sucks" at his rallies. Bash made her comments after noting that the mail bomber suspect has a "CNN sucks" sticker on his vehicle.
"[Trump is] not technically responsible for this," Bash said. "But he is responsible for not just allowing the chant 'CNN sucks' at his rallies, but stoking it, making clear that he likes it. And all you need is one, forgive me, crackpot. And it looks like one may have emerged."
After listening to Bash's remarks, Kerik said, "She should have stopped when she got to the end of the president's not responsible, period. That's the reality. The president is not responsible and I would say to CNN and I would say to the mainstream media, that they themselves legitimize the president's complaint, concerns, aggravation, frustration with their coverage."
He offered CNN some advice: "If you don't want the president to criticize you, for the way you cover, your biased coverage, your fake news, if you don't want the president to complain about that, then stop it, stop it. Be fair. Report the news, don't make opinions, don't make assertions, don't blame the president for things that you yourself admit you have no responsibility over, and stop it."
Kerik said he knows the country has the ability to come together and unite, because he saw it in the aftermath of 9/11.
"They all came together as one, and united behind the country. And that's what we should be doing. For people like this to be going out there and want to instill fear or want to threaten or engage in violence, knock it off, you know, stop stoking it, stop antagonizing, instigating, just stop. You have a disagreement with the other political party, fine, talk about it," he said.
He also said it was wrong for protesters to harass members of Congress on the street and in restaurants.
"It's wrong, it shouldn't happen. In fact, I'd like to see the Department of Justice go to the legislature and create a law — you can't chase congressmen and senators down the street or walk into a restaurant and scare the hell out of them to the point where they got to get up and leave the restaurant," he said.
The most recent incident happened when four men heckled Senate Majority Leader Mitch McConnell (R-KY) and his wife Secretary of Transportation Elaine Chao at a Louisville restaurant, shouting for McConnell to get out and leave the country. One man, according to a witness, had grabbed their leftovers and threw it outside. Other dinners encouraged the men to leave.
Kerik called the hecklers "cowards."
"It's a violation of your civil rights to live in peace for God's sake. Not to mention these people under normal circumstances are cowards. They wouldn't do that to some big rough and tumble guy. They're going to find somebody like Mitch McConnell and his wife who's trying to have a peaceful dinner at a restaurant and they're going to go up and antagonize and intimidate and scare the hell out of them," he said.
"You know what, they wouldn't do that to a real tough guy. But they do it to them, and it's wrong. It's just wrong. It's wrong on both sides."
http://feedproxy.google.com/~r/breitbart/~3/u__L1ubtfiw/