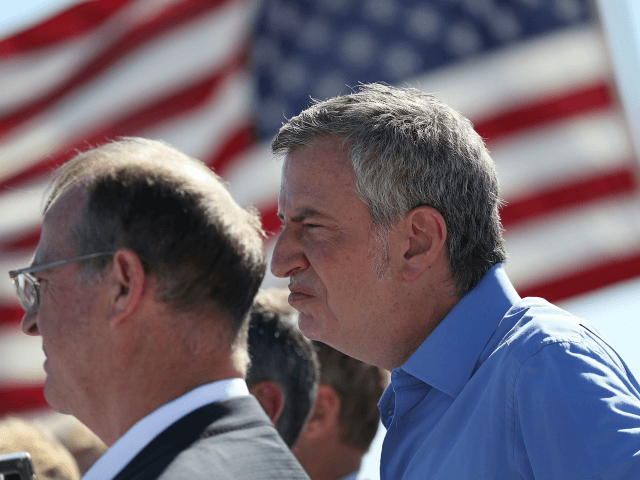 New York Mayor Bill de Blasio ended his Friday workout session early because a homeless activist confronted him about New York City's homeless problem.
De Blasio was in the middle of his usual workout routine at the Park Slope YMCA when Nathylin Flowers Adesegun, 72, asked him if the city could provide 30,000 more units to house the homeless.
"I'm in the middle of doing my workout, I can't do this now," the mayor responded, before bolting towards the nearest exit.
Once de Blasio made it outside the gym, activists held signs which read: "De Blasio To Homeless NYers: Stay Homeless" and clamored around the mayor as he reached for his suit and ran back inside the gym.
Adesegun, along with several other activists with the advocacy group VOCAL-NY, arrived at the Ninth Street YMCA to advocate for New York City's homeless.
"He made it clear that his morning workout was more important to him," Adesegun told Park Slope Patch. "Am I just supposed to stay homeless?"
The activists say the city's Mandatory Inclusionary Housing program excluded more than 62,000 New Yorkers who could not meet income requirements to obtain the affordable housing the program promised. Of the 300,000 units designated as affordable housing, only five percent was allotted to the homeless.
"Why won't you commit more housing for homeless New Yorkers Mayor de Blasio?" shouted an activist outside the gym. "Five percent is not adequate!"
Homelessness in the city jumped by 4.1 percent in 2017 despite the mayor's push to spend millions on affordable housing in New York City, and homeless advocates have criticized the mayor's spending strategy.
"Mayor de Blasio may love working out, but his plan for housing homeless New Yorkers is just weak," said Coalition for the Homeless policy director Giselle Routhier. "This is simply unacceptable and perpetuates the 'Tale of Two Cities' he vowed to fix."
http://feedproxy.google.com/~r/breitbart/~3/frbqkxmuMy0/