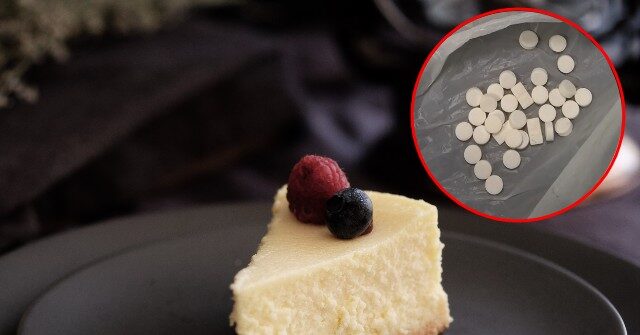 A Russian-born woman who tried to poison her lookalike friend with cheesecake received a 21-year prison sentence Wednesday in New York City.
Queens Supreme Court Justice Kenneth Holder described Viktoria Nasyrova's scheme as "diabolical," the New York Post reported.
"Fuck you," Nasyrova apparently told the judge when she left the courtroom.
An image shows the woman in prison and the victim involved:
NYC dominatrix yells 'F–k you' in court after getting slapped with 21-year sentence https://t.co/y0r42ltdhU pic.twitter.com/t7fJNSHk27

— New York Post (@nypost) April 19, 2023
In February, the Brooklyn resident was convicted of attempted murder for trying to take the life of her beautician friend, Olga Tsvyk, in 2016.
Nasyrova was accused of getting a cheesecake from a famous bakery, lacing it with a tranquilizer known as Phenazepam, and taking it to Tsvyk.
"Nasyrova ate two pieces of the dessert and gave one to her friend before leaving a vomit-stricken Tsvyk — who eventually passed out from the drug — and taking her passport, money and other belongings, prosecutors claimed," the Post report said.
When asked during a 2017 interview if people were lying about her regarding more accusations against her, Nasyrova said, "Most of them, yes."
Following the poisoning, the woman reportedly left the pills laying beside Tsvyk's body to make it appear she committed suicide.
Although the victim recovered from the ordeal, she could have suffered a heart attack, the Post article said.
Video footage shows Nasyrova in the courtroom during sentencing:
"It was easy for her to steal. It was easy for her to kill. August 29, 2016 is my second birthday. My life is now split," Tsvyk said while giving her statement.
Nasyrova has also been accused of killing a fellow Russian before coming to America and using poison in other instances, as well.
Her criminal defense attorney, Jose Nieves, initially asked the judge for leniency because she has a child in need of a bone marrow transplant.
He also said the sentence handed down was "excessive," and he is now planning to appeal.
https://www.breitbart.com/crime/2023/04/21/nyc-dominatrix-who-tried-poison-lookalike-friend-cake-gets-21-years-prison/