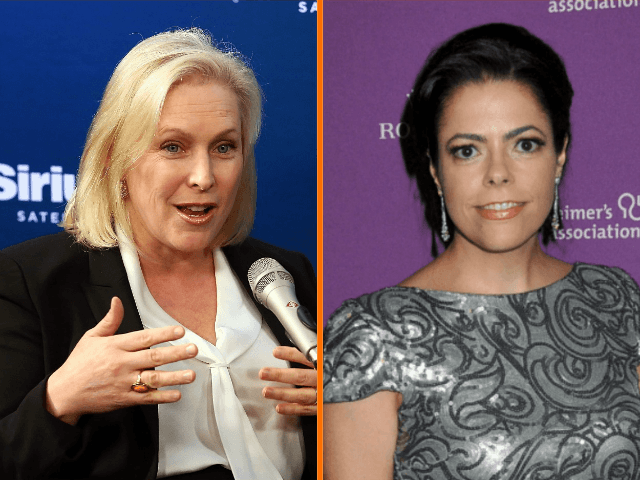 NEW YORK — New York Senator Kirsten Gillibrand is "America's Neville Chamberlain, a public official who has betrayed the cause of a strong and free Israel," charged Gillibrand's Republican challenger, Chele Farley.
Farley contended that Gillibrand has "emerged as a leader of the dangerous socialist left of the Democratic Party which has turned its back on Israel."
"New Yorkers deserve to know that in the name of blind ambition Kirsten Gillibrand has abandoned her principles," said Farley in a campaign statement. The Republican candidate posited that Gillibrand is positioning herself to the far-left as part of a strategy to run for president in 2020.
"We cannot give an inch and we can never turn a blind eye to anti-Semitism in any form and at any time," said Farley. "As New York's Senator, I will be rock solid in my support of Israel, our greatest ally in the Middle East."
Farley ramped up her criticism of Gillibrand after the politician two weeks ago continued her association with anti-Israel radical Linda Sarsour by appearing with the extremist at a Washington D.C. rally. Gillibrand has also taken other moves that seem to position her against mainstream support for Israel, Farley noted.
Sarsour introduced Gillibrand to attendees at the rally against Brett Kavanaugh as a politician "who works for us on the inside."  The rally took place one week before Kavanaugh was confirmed as Supreme Court Justice.
Promoting Gillibrand, Sarsour stated: "I want to introduce to you another champion, another one of our people who works for us on the inside. Someone who understands that she works for the people of this country, who's been speaking up against sexual assault and sexual violence before there was a Brett Kavanaugh. Please give it up for the senator."
Two weeks ago, this reporter outlined "five reasons Gillibrand is dangerous for Israel."
Those reasons, this reporter contended, include:
Gillibrand broke from the mainstream of the Democratic Party when she withdrew support from the "Israel Anti-Boycott Act," which opposes the anti-Semitic Boycott, Divestment, Sanctions (BDS) movement targeting Israel.
Gillibrand provided key support for President Obama's nuclear deal with Iran, which the Israeli government strongly opposed over security concerns. She also opposed Trump's decision to leave the Iran accord in hopes of negotiating a better deal.
Gillibrand glowingly praised Sarsour.
Gillibrand sided with an anti-Israel activist who claimed the Israeli government does not respect Palestinian rights. She also criticized Prime Minister Benjamin Netanyahu, who offered the Palestinians a state on numerous occasions, as "not hav[ing] a plan for peace."
Gillibrand voted against confirming Israel supporter David Friedman as President Trump's ambassador to Israel.
Regarding Sarsour, Gillibrand has other links to the anti-Israel activist.
Gillibrand authored a profile of Sarsour when the extremist made Time magazine's 100 most influential people last year.
Gillibrand hailed Sarsour and three other leaders of the anti-Trump Women's March, which Gillibrand also headlined, as "extraordinary women."
"These women are the suffragists of our time," Gillibrand gushed.
Gillibrand's office did not respond when major Jewish groups urged the New York senator to retract her praise considering Sarsour's anti-Israel comments, including tweeting that "Nothing is creepier than Zionism."
Sarsour also claimed one cannot be a Zionist and a feminist even though Israel is the only country in the Middle East where women have equal rights and the Islamic nations that Sarsour champions are well-known abusers of women's most basic rights.
Rabbi Abraham Cooper of the Simon Wiesenthal Center attempted to appeal to Gillibrand's sensibilities over her support for Sarsour. "I think the Jewish community in New York and across the U.S. has a lot of respect for the senator, but she may want to reevaluate the statement in Time magazine," Cooper said. "If someone is in effect saying you have to make a choice between being a progressive woman or a Zionist, the senator, reflecting on such comments, would I hope make a different type of statement."
"Linda Sarsour spends most of her waking hours working to delegitimize Israel and its supporters," Daniel Mariaschin, the Executive Vice President of B'nai B'rith International, commented. "We'd ask Senator Gillibrand to recognize that you can't compartmentalize on these things. It isn't enough to say, 'You know, she worked on the Women's March, and therefore she deserves this kind of recognition.'"
Gillibrand also keynoted the October 2017 "Brooklyn Conference" at the Brooklyn Museum, which featured Sarsour as a speaker on the same day.
Another speaker that day was Alicia Garza, co-founder of Black Lives Matter, which supports the BDS movement. The main sponsor of the conference, as advertised in literature for the event, was George Soros's Open Society Foundations. The Open Society supports scores of pro-BDS groups.
Aaron Klein is Breitbart's Jerusalem bureau chief and senior investigative reporter. He is a New York Times bestselling author and hosts the popular weekend talk radio program, "Aaron Klein Investigative Radio." Follow him on Twitter @AaronKleinShow. Follow him on Facebook.
http://feedproxy.google.com/~r/breitbart/~3/ta0AxTE2eCg/