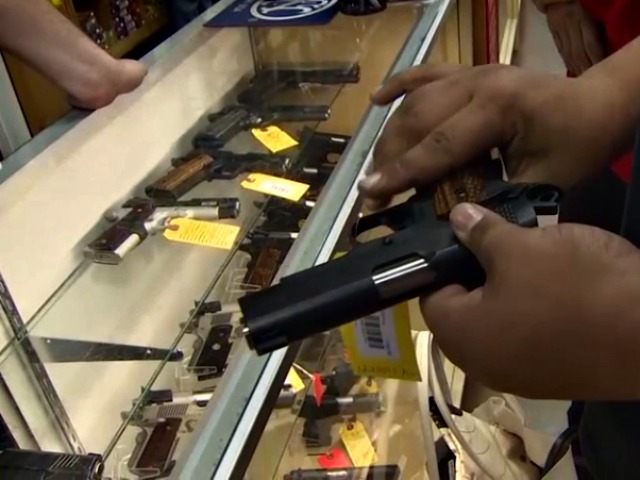 Brooklyn borough president Eric Adams (D) and New York State Sen. Kevin Parker (D-21) are both pushing to require a social media background check before allowing individuals to purchase firearms.
The New York City Patch reports that the gun control push would also allow authorities to go "through a year's worth of…search engine histories" before an individual would be allowed to buy a firearm.
New York's SAFE Act, instituted after stolen firearms were used to attack Sandy Hook Elementary School, requires universal background checks and registration, and bans "assault weapons" and "high capacity" magazines. But Sen. Parker does not believe that goes far enough.
He wants background checks looking into criminal history that need to be coupled with a way to predict future use of firearms: "We certainly want to make sure that we're adding to the protections that we need to make sure that people that we're putting handguns and rifles and shotguns in the possession, that they in fact are the people that are using them in the right way."
WCBS 880 quotes Adams saying, "A three-year review of a social media profile would give an easy profile of a person who is not suitable to hold and possess a firearm."
The social media/search engine background check would be seeking out certain forms of hate speech and other indicators that would be used to deny the exercise of Second Amendment rights to would-be gun buyers.
AWR Hawkins is an award-winning Second Amendment columnist for Breitbart News, the host of the Breitbart podcast Bullets with AWR Hawkins, and the writer/curator of Down Range with AWR Hawkins, a weekly newsletter focused on all things Second Amendment, also for Breitbart News. He is the political analyst for Armed American Radio. Follow him on Twitter: @AWRHawkins. Reach him directly at awrhawkins@breitbart.com. Sign up to get Down Range at breitbart.com/downrange.
http://feedproxy.google.com/~r/breitbart/~3/qy_z2WkoNb4/