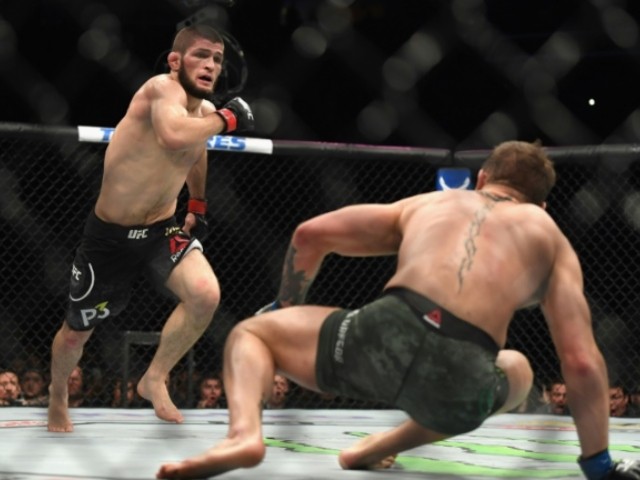 The UFC lightweight champion had McGregor on the ground less than a minute into the opening round and kept the Irish fighter on his back for much of the fight.
McGregor managed to stay on his feet for most of the third round, but the once feared striker couldn't hurt Nurmagomedov and in the fourth, the champion took him down again, getting McGregor in a brutal rear-naked chokehold that had McGregor tapping out at 3min 3sec of the round.
Nurmagomedov had barely released his hold when he launched himself over the Octagon fence, apparently targeting McGregor's training partner Dillon Danis.
As security tried to quell the chaos in the crowd, someone leapt in and took a shot at the exhausted McGregor, who eventually departed in a huddle of security personnel.
Nurmagomedov was also hustled out surrounded by security officers as the pro-McGregor crowd jeered and threw drinks at him.
UFC chief Dana White refused to hand Nurmagomedov his belt, saying he feared it would further inflame the crowd.
"If I put this belt on you, everyone's going to start throwing shit into the Octagon," he told Nurmagomedov.
The ring announcer declared Nurmagomedov the winner after both fighters had departed.
McGregor was returning to mixed martial arts for the first time since November 2016.
In April, he attacked a bus filled with UFC fighters at the Barclays Center in April. The frenzied attack left two athletes injured.
McGregor pleaded guilty to disorderly conduct in a Brooklyn criminal court in July in a plea deal that allowed him to avoid jail time.
All felony counts were dropped and he was ordered to do five days of community service.
http://feedproxy.google.com/~r/breitbart/~3/OHN_xcrOsGA/