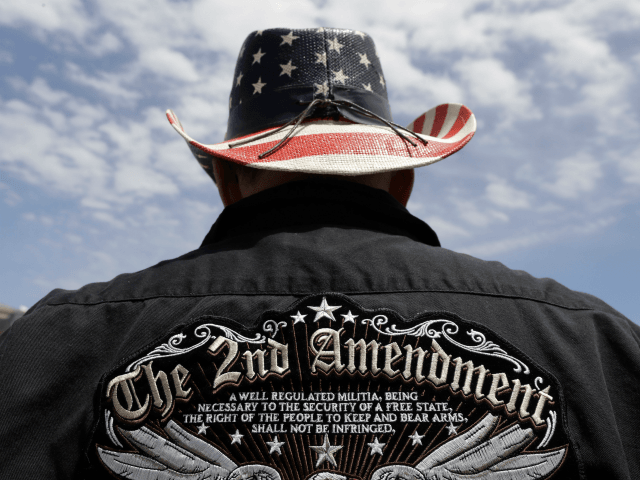 The NRA is urging its six million members and other freedom-loving Americans to vote like their gun rights depend on it–because they do.
The NRA tweeted:
The Second Amendment is on the ballot. If you don't vote, you are supporting the Bloomberg/Schumer/Pelosi EXTREME gun control agenda. It is that simple. #VOTE #2A #electionday

— NRA (@NRA) November 6, 2018
The NRA's point is clear: the Second Amendment is in danger at state and federal levels if gun voters do not pour into the polls.
At the state level, Georgia gubernatorial candidate Stacey Abrams (D) has made clear that the outcome of her gun control plans could mean Georgians have to "turn their guns in." Moreover, Abrams wants to add a three-day waiting period for gun purchases and universal background checks. She also wants to repeal campus carry, which is a law that allows concealed carry permit holders to keep their guns with them for self-defense on public college and university campuses.
On the federal level, Sen. Jon Tester (D-MT) claims to be pro-gun, yet he voted against both of President Trump's pro-Second Amendment Supreme Court nominees. Conversely, Tester voted for both of President Barack Obama's anti-Second Amendment Supreme Court nominees.
Tester has a D rating from the NRA, whereas his challenger, Matt Rosendale (R), has an A rating.
Consider Sen. Claire McCaskill (D-MO). She has an F rating from the NRA and has made clear she wants universal background checks. Also, her staff admitted she is open to a "semiautomatic rifle ban." Her opponent, Josh Hawley (R), has an A rating from the NRA.
Rep. Marsha Blackburn (R) is running for the open Senate seat in Tennessee. She is NRA-endorsed and pro-Second Amendment to the core. Her challenger, Phil Bredesen, has made clear he will support universal background checks and other gun controls if elected. The NRA-ILA's Chris Cox observed:
Bredesen supports criminalizing private firearm transfers between lifelong friends and many family members. He also supports a federal gun database and refuses to oppose burdensome and unnecessary restrictions on ammunition. As governor, Phil Bredesen vetoed protections for concealed carry permit holders and opposed allowing law-abiding Tennesseans to carry a firearm for self-defense in the manner that best suits their needs.
Bredesen's gun control ties run so deep he left Tennessee in mid-October to attend a fundraiser hosted by gun control proponent Michael Bloomberg.
The only thing necessary to secure wins for Tester, McCaskill, and Bredesen is for gun owners and freedom lovers to put off voting on Tuesday. On the other hand, all three Democrats are beatable if NRA members and freedom lovers will simply vote like their gun rights depend on it–because they do.
AWR Hawkins is an award-winning Second Amendment columnist for Breitbart News, the host of the Breitbart podcast Bullets with AWR Hawkins, and the writer/curator of Down Range with AWR Hawkins, a weekly newsletter focused on all things Second Amendment, also for Breitbart News. He is the political analyst for Armed American Radio. Follow him on Twitter: @AWRHawkins. Reach him directly at awrhawkins@breitbart.com. Sign up to get Down Range at breitbart.com/downrange.
http://feedproxy.google.com/~r/breitbart/~3/FI-Q60uWBYA/