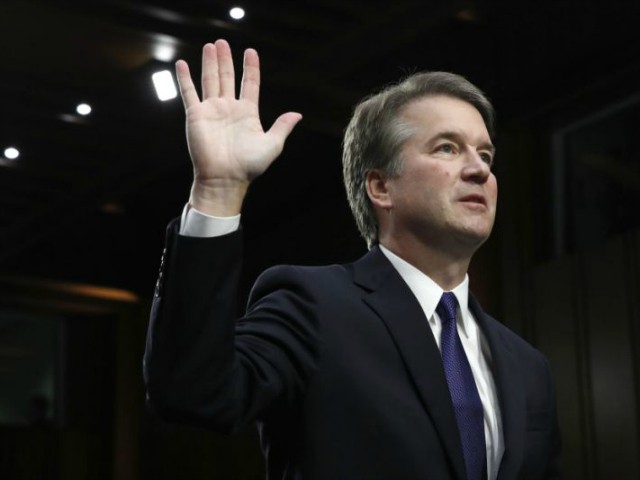 The NRA tweeted an ad Tuesday explaining the opportunity to confirm Brett Kavanaugh is an opportunity to protect the freedom that protects all others.
The ad features NRA-ILA executive director Chris Cox discussing your "right to defend yourself and your family with a firearm in your own home." He stresses the current situation on the Court–four Supreme Court justices believe that right exists and four do not. He then explains that Kavanaugh will be the fifth vote in favor of your right to self-defense.
Cox says, "This is our opportunity to protect the one freedom that guarantees all the others. The freedom that makes America different from every other country on earth. The Second Amendment is at stake, America is at stake."
Every law-abiding gun owner needs to contact their senator to tell them to confirm #Kavanaugh. #SCOTUS currently has 4 anti-gun justices and 4 pro-gun justices – our #2A rights hang in the balance.

Visit https://t.co/Yzb9wsAwkR to contact your senators or call (202) 224 3121. pic.twitter.com/DLAIWv2gIr

— NRA (@NRA) October 3, 2018
During his September 5 confirmation hearings, Kavanaugh explained that AR-15s and similar rifles are in "common use" because they are "widely possessed." In other words, they fall under District of Columbia v. Heller (2008) "common use" phraseology because millions upon millions are owned and used for sport, hunting, and self-defense.
The NRA ad featuring Chris Cox is accompanied by text urging "every law-abiding gun owner" to contact their Senator to "tell them to confirm Kavanaugh."
The contact number for the Capitol switchboard is (202)224-3121.
AWR Hawkins is an award-winning Second Amendment columnist for Breitbart News, the host of the Breitbart podcast Bullets with AWR Hawkins, and the writer/curator of Down Range with AWR Hawkins, a weekly newsletter focused on all things Second Amendment, also for Breitbart News. He is the political analyst for Armed American Radio. Follow him on Twitter: @AWRHawkins. Reach him directly at awrhawkins@breitbart.com. Sign up to get Down Range at breitbart.com/downrange.
http://feedproxy.google.com/~r/breitbart/~3/qBDNBCgAp3w/