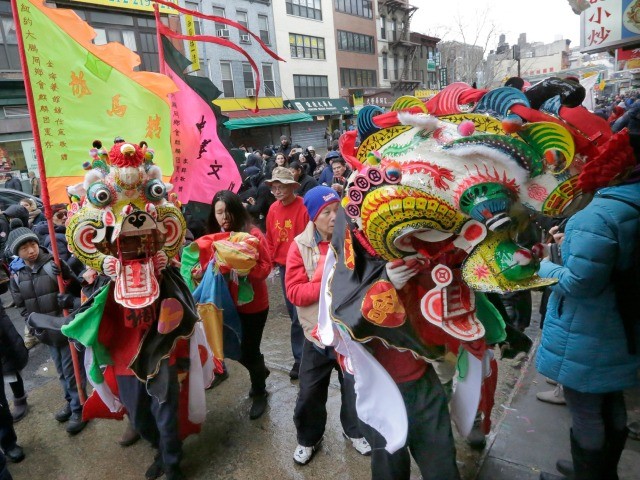 Homeland security officials are investigating 3,500 Chinese migrants who used fake stories to win asylum in the United States and 10,000 of their chain-migration relatives who subsequently migrated into the United States.
An NPR report quotes an unidentified Chinese migrant — identified as "Lawrence" — who helped prosecutors in 2012 target the initial group of immigration lawyers and aides. But Lawrence is now refusing to help officials prepare deportation cases against thousands of the Chinese asylum recipients:
"Because targets are different," he says. "Those Chinese immigrants — those clients … their attorney just tell lie to them, to do that."

The way Lawrence tells it, he is fighting a larger battle now against government agencies that are mixing up what is legal with what is right. He wants no part in helping the government use the letter of the law to strip asylum from people who won it years ago — even if that means he has to remain in hiding.
According to Lawrence, DHS asked him in 2017 to help resolve more than 2,200 cases.
NPR also spoke to Zhenyi Li, one of the 3,500 migrants who invented a story of persecution to win asylum and citizenship. NPR reported:
In December 2016, more than five years after winning asylum, Li … got a piece of mail from USCIS. It read: "Notice of Intent to Terminate Asylum Status."
Officials declined to tell Breitbart News if they plan to repatriate the 3,500 fraudsters or the extra 10,000 beneficiaries of fraud.
But officials provided a statement saying:
Post-conviction review of potentially impacted cases is integral to the integrity of the immigration process. We will continue to combat fraud it wherever it manifests.
Officials also described the legal process for revoking asylum. "On a case by case basis and in consultation with Immigration and Customs Enforcement (ICE), a determination is made whether to file a motion to reopen on individual cases before the Department of Justice, Executive Office for Immigration Review," said the agency statement.
The large-scale fraud was exposed in 2012 when justice department officials began the prosecution of more than 30 people, many of whom were Chinese-born immigration lawyers and legal aides. The New York Times reported in 2014:
Peter Kwong, a professor at the City University of New York and an expert on the Chinese population in New York, said it was an open secret in the Chinese community that most asylum applications were at least partly false, from fabricated narratives of persecution to counterfeit supporting documents and invented witness testimony.

To asylum-seekers, he said, "it's not an issue of right or wrong. It's an issue about whether they can get it and their means to get it."
The fraud was sketched in a May 13, 2013 statement from the Department of Justice:
XU worked as an office manager at a law office in New York, New York, and LUO worked as a paralegal at a law firm also located New York City (collectively the "Law Firms"). The Law Firms fabricated stories of persecution in connection with the asylum applications of clients that often followed one of three fact patterns: (a) forced abortions performed on women pursuant to China's family planning policy; (b) persecution based on the client's belief in Christianity; or (c) political or ideological persecution, typically for membership in China's Democratic Party or Falun Gong. Since 2006, the Law Firms have submitted more than 1,000 asylum applications. XU, LUO, and other employees at the Law Firms, profited by creating and submitting these asylum applications on behalf of Chinese alien applicants. WEN provided various services to the Law Firms, and other law firms, including selling fake documents in aid of the fraudulent asylum applications.
The Chinese fraud was similar to a 2004 investigation, dubbed "Operation Jakarta," in which more than 20 people were arrested for immigration fraud involving 1,900 Indonesians who claimed to be persecuted Christians.
Many Somalian refugees also engaged in organized fraud, forcing officials to suspend a chain-migration process and to implement DNA testing of Somalians who claimed to be family relatives. A State Department document noted in 2008 that:
We were, however, only able to confirm all claimed biological relationships in fewer than 20% of cases (family units) … We initially tested a sample of some 500 refugees (primarily Somali and Ethiopian) in Nairobi, Kenya under consideration for U.S. resettlement through the [family reunification] P-3 program. After that sample suggested high rates of fraud, we expanded testing to Ethiopia, Uganda, Ghana, Guinea, Gambia and Cote d'Ivoire.
Subsequently, officials charged Somalis with chain-migration fraud. One case was described in a November 2017 statement:
Fosia Abdi Adan, 51, a native of Somalia, applied for and received a diversity visa from the U.S. Embassy in Sanaa, Yemen, under the Diversity Visa (DV) Program on Jan. 10, 2001, and used her visa to unlawfully obtain beneficiary visas for the below individuals who were ineligible to be beneficiaries. Adan arrived and was admitted to the United States on Jan. 29, 2001, on her diversity immigrant visa as a permanent resident. Throughout the diversity visa application process, Adan fraudulently claimed that she was married to Jama Solob Kayre, the fictitious identity used by Ahmed Mohamed Warsame, and that she and Kayre had three children together.  Such children included Mohamed Jama Solob, the fictitious identity used by Mustaf Abdi Adan, and Mobarak Jama Solob, the fictitious identity used by Faysal Jama Mire … Adan naturalized on Aug.16, 2006. Adan has been residing in Eden Prairie, Minnesota.
Many people from foreign cultures feel no qualms about immigration fraud, especially if it benefits their ethnic or national group. "We are doing work like the last stop on the Underground Railroad," David Miao, the owner of an immigration law office in New York's Chinatown, told the New York Times. The Times continued:
He was among those indicted in the investigation that also implicated Mr. Wang; the case became public with the unsealing of nine indictments and a series of raids in December 2012. He has pleaded not guilty to conspiracy to commit immigration fraud.

"If we didn't do this, they will be sent back to China," he said in an interview. "We save lives."
Also, fraudsters are easily able to deceive immigration officials who were born in the high-trust, law-abiding, ethnically-homogenous United States, say legal experts and the people who commit the fraud. For example, Lawrence told NPR that the migration fraud was widely recognized by Chinese migrants in New York, adding:
I wrote so many ridiculous cases on daily basis … For those asylum officers and those immigration judge, they are buried by this kind of fake story every day, so they don't know what real story should be looking like.
Many business groups and progressives also try to minimize immigration enforcement.
In 2012, officials working for President Barack Obama decided to let the 13,500 migrants stay in the United States, despite their fraud. The official responsible for the decision, Preet Bharara, is an Indian immigrant. He served as U.S. Attorney for the Southern District of New York and is now a loud critic of President Donald Trump.
Four million young Americans will join the workforce this year, but the federal government will also import 1.1 million legal immigrants, and allow an army of at least 2 million white-collar and blue-collar visa-workers to work U.S. jobs, alongside additional asylum-claiming migrants and at least 8 million illegal migrants.
Overall, the Washington-imposed economic policy of economic growth via immigration shifts wealth from young people towards older people by flooding the market with cheap white-collar and blue-collar foreign labor.
That flood of outside labor spikes profits and Wall Street values by cutting salaries for manual and skilled labor offered by blue-collar and white-collar employees. The policy also drives up real estate prices, widens wealth-gaps, reduces high-tech investment, increases state and local tax burdens, hurts kids' schools and college education, pushes Americans away from high-tech careers, and sidelines at least 5 million marginalized Americans and their families, including many who are now struggling with opioid addictions.
Immigration also pulls investment and wealth away from heartland states because investment flows towards the large immigrant populations living in the coastal states.
http://feedproxy.google.com/~r/breitbart/~3/gHJ1af5Hzw4/